Three-time Olympian discusses importance of setting goals, pursuing an education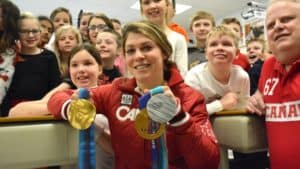 Sudbury's Rebecca Johnston is fresh off her journey at the Pyeongchang Winter Olympics, where she added a silver medal to the two golds she'd already won as a member of Canada's women's hockey team.
Though she's only been home for a week, Johnston spent Tuesday morning with students at Algonquin Road Public School.
After sharing stories and answering questions from the curious youngsters, Johnston admitted the shootout loss to the rival United States in the gold medal final still stings.
Rebecca Johnston2 Answers questions, Team Canada women's hockey Sudbury
Team Canada women's hockey team forward Rebecca Johnston takes questions from students at Algonquin Road Public School in her hometown of Sudbury on Tuesday. (Benjamin Aubé/CBC)
But she added the reality of the team's accomplishments is starting to sink in.
"Obviously right after the game, I was a little bit disappointed with the outcome, but to bring back a silver medal and to know how hard we worked and how great of a game it was, and how close it was, I appreciate it a lot more," said Johnston.
"I'm excited to bring it back and share this silver medal with everyone."
Johnston brought along not only the silver medal she won in Pyeongchang, but also the golds she seized in Sochi in 2014 and Vancouver in 2010.
She happily let the awestruck Grade 4 students pass the three prizes around.
"You can see the excitement and the passion some of the kids have. I remember when I was little, that's what I had: I had a really big passion for hockey and I just absolutely loved to play, so I think that's the start of something," said Johnston, who is also scheduled to visit MacLeod Public School this week.
Medals and metals
Olympic talk had already been integrated into the students' science workshop on rocks and minerals, where they learned what metals go into making the medals handed out at the Games.
Grade 4 student Keira Bertrand was impressed with the weight of the medals, but said some of Johnston's words also stood out.
"I like how she said how much she worked hard on it and she had a bunch of goals in her life," said Bertrand, who was fully decked out in Team Canada hat and sweater. "That was really, really awesome."
Grade 4 student Harshif Patel also took the chance to meet Johnston to heart.
"This is not a really famous town, but how we have an Olympian, that's pretty cool," said Patel, who added he's inspired to work toward becoming a basketball player.
Not ruling out 2022
Johnston was pleased to get questions from some of the students about her own academic path.
"It's really important for me to emphasize the importance of focusing on getting an education. Sports is important, but [it's also important] to have that mindset, and to have goals and to try to accomplish them," said the graduate of Lo Ellen Park Secondary School who went on to attend Cornell University.
Johnston was also asked where she sees herself four years from now, when the Winter Olympics head to Beijing.
"You know what, I'm not 100 per cent sure," said the longtime forward with the Calgary Inferno of the Canadian Women's Hockey League.
"I definitely want to keep playing right now. I can't say I'll be there in four years, but if I'm feeling good and I'm still enjoying it, hopefully maybe another Olympics, but I'll take it year by year and see from there," she added.