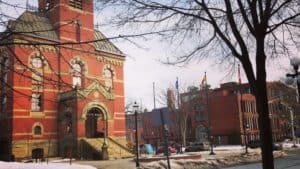 The City of Fredericton is spending nearly $3 million to upgrade its internal computer systems and modernize the way it does business
At their meeting Monday night, councillors approved a contract with Deloitte Canada for a cloud-based system that will be used in the city's finance and human resources departments.
City staff believe the decision is groundwork that will make Fredericton a more digital friendly city and hopes to offer more services online in the next few years.
Tina Tapley, director of finance, innovation and technology with the city, said some of the technology city hall uses today is old and outdated.
"We need to rebuild, build a solid foundation of those systems and tools to improve process and really move our city forward," she said.
A digital future
Although the money will be used for internal upgrades, Tapley said it's a necessary step to providing better digital services for residents in coming years.
"Our vision is to really move toward a much more digital city with better solutions for our citizens."
The city is planning to make itself more accessible online and through mobile apps, which will give residents more convenient ways to interact with local services.
Those upgrades will come in the next phase of the project in the next few years.