City collaborates with MLSE Foundation to give kids 'taste' of hockey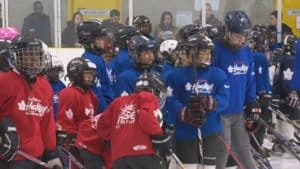 Dozens of children were given an opportunity on Saturday to play hockey with the likes of Toronto Maple Leafs alumni Nik Antropov, as the City of Toronto partnered with MLSE Foundation to host a celebration day for the Hockey in the Neighbourhood program.
Funded by MLSE Foundation, Tim Hortons and the Toronto Maple Leafs Alumni Association, Hockey in the Neighbourhood aims to encourage participation in hockey through hands-on training.
Antropov said it was a delight being a part of Saturday's program at the Malvern Recreation Centre in Scarborough.
"It's a great thing to do [to] help out the kids [and] make sure they do a lot of sports no matter what it is," he told CBC Toronto.
Antropov emphasized the importance of the program, noting that most families can't afford to get their children into hockey.
Coach Ahsan Ahmad agrees and adds no child with an interest in the sport should be left behind because they cannot afford it.
"Hockey is a big thing in Canada. Anywhere you go you see people talking about hockey," Ahmad told CBC Toronto.
He said the program is for kids who are beginning hockey and involves simple drills to get them into the game.
"It's for kids that want to get into the sport that Canada plays but they don't really have the financial aid. It's to give them a little jump start."
Ahmad, who said he got his first taste of the sport when he was 10 in the Hockey in the Neighbourhood Program, now runs two rinks with 40 and 60 kids respectively.
He explained that while it might not seem like a lot, it is important that the rinks are not too packed, so kids could get "one-on-one help."
Meanwhile, Jess Vella, a forward for the Toronto Furies who also participated in Saturday's program, pointed to the importance of giving back to the community and demonstrating the importance of hockey.
"It's a great opportunity for children to come out here, learn what it's like to play hockey," she told CBC Toronto. "It's a great character builder, and I think they have a lot of fun out here."
Vella said the program also gives kids the opportunity to try hockey to see if they like it.
"I think hockey is one of those sports that everyone really enjoys and would like the opportunity to play," she added. "There is support from a lot of different organisations and people to give them the opportunity to play."
Introduced in 1999, the Hockey in the Neighbourhood program has used hockey as a tool of engagement for more than 5,000 children and youth.