Market featured more than a dozen vendors selling art, jewellery, vintage clothes and books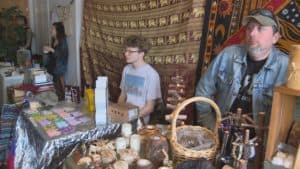 An Island art enthusiast transformed her Charlottetown apartment into a pop-up art market and thrift shop this Sunday to give local vendors a free space to showcase their work.
Doing the 'side hustle': Islanders tap into their creative sides
Danielle Doucette said she came up with the idea after she and several friends noticed a lack of free spaces for artists to meet and network on the Island.
"Usually you have to pay for a table or there's places where you have to pay to get in," Doucette said.
Doucette said while there are plenty of pop-up events and markets on the Island, vendors and customers usually have to pay a fee to enter, which can be difficult for new artists or small business owners to afford.
"I figured it would be cool to just open up a space where people could just gather and hang out," she added, "not feel pressure to buy anything or pay to get in or have to pay for a table."
Less pressure to make sales
There were 13 Island-based vendors who set up shop in Doucette's living room selling art, jewellery, books and records.
"We actually have a really diverse group," Doucette said. "We have a lot of different art, paintings and illustrations and crafts, woodworking, embroidery— a lot of different stuff."
Doucette also opened a space next to her kitchen for people to sell vintage clothing and shoes.
Karen Younker, co-owner of DK Original, was one of the vendors at the living room market, selling handcrafted woodwork and jewellery.
She said she and her partner have set up booths at the Charlottetown Farmer's Market and at the Charlottetown Farm Centre in the past, but that pop-up events are a good way to promote their business during the off-season and quieter winter months.
"We definitely can use a lot more of them," Younker said.
She said the opportunity to showcase work at a market without having to pay a $40 dollar vendor's fee takes off the pressure to make sales.
"When you do come in and there's no fee, it makes you feel like, okay I can do this. I don't have to worry if I don't make a sale or not," she added. "When you make a sale it's even better."
Hopes to host again
Doucette said more than 70 people came through her pop-up market and she was excited to see how quickly her home was transformed into a busy space full of art and creative people.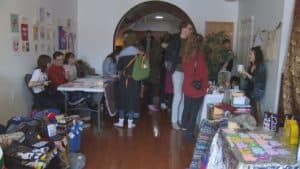 "I have the space and it's the perfect size," Doucette said.
"It's nice to get together and just talk about your art and swap and just have the freedom of not feeling like you're going shopping but you're just coming to hang out."
"Seeing how popular this one has been and seeing how it goes I hope to have more in the future, for sure."