$230,000 goal set for 2018 to help subsidise memberships for those who can't afford one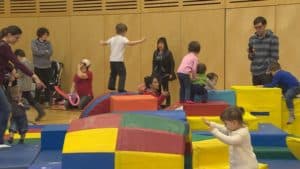 Bouncy castles, an obstacle course, relay races, ping pong, Wii Sports, swimming and more: the YMCA in Sudbury is kicking off its annual Strong Kids fundraiser with the "Family Day Games."
The charity has set an ambitious fundraising target for the month-long campaign: the goal is $230,000 — $60,000 more than was raised in 2017.
Kendra MacIsaac, manager of Health, Fitness and Aquatics, said the money is used to help make sure anyone can participate in YMCA programs, regardless of their circumstances,
"We don't feel that any child should have their ability to participate in a recreation program, or to learn how to swim … that shouldn't be impacted by where they live or where they go to school or how much money their parents make," she said.
Although the fundraising campaign is called Strong Kids, MacIsaac said the money raised is to help members of any age who need financial assistance with a membership.
One in four members at the YMCA Sudbury require some financial assistance. There are currently 4,300 members at the Sudbury site.
"Every single day somebody can come in and apply for financial assistance, and they receive it. We don't turn anyone away."
This is the only fundraising the charity does.
"Anything raised in Sudbury stays in Sudbury so there is no national umbrella for fundraising for Strong Kids. Each individual YMCA raises money for their YMCA," MacIsaac said.
The Family Day event to kick off Strong Kids at the YMCA in Sudbury happens Monday, Feb. 19 from 10:30am – 2:30pm.
It's free with a donation to the campaign.