The Hants Health and Wellness Team takes a holistic approach to treating patients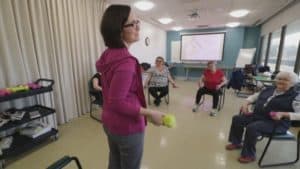 The idea of learning how to manage her recent diabetes diagnosis with a group of strangers terrified Lori Bent.
She was diagnosed six months ago and her doctor referred her to the Hants Health and Wellness Team in Windsor. Her fears about the team's diabetes and exercise group were quickly put to rest, however.
"We learn from each other every day," Bent said ahead of this week's class. "When we're here we're talking; we have an open discussion every morning about whatever we choose to work on, whether it's diet or exercise [or] our feelings.… That allows us to help each other."
It's not a common approach to primary care, but it's what the Hants site embodies.
Four years ago, the health authority was looking for a new approach for primary care in the West Hants area, in part because of a lack of family physicians and in part because of a high population of people with multiple medical problems, that could compliment existing services.
At the same time in Dartmouth, Dr. Colin van Zoost, a general internist, was trying to find a new approach to addressing the growing number of patients he was seeing with multiple medical problems who needed a more holistic approach to care.
"We've realized that if you only focus on the one single system problem, you're not actually treating the patient," he said. "You're only treating that problem and it just really is not good patient care."
Van Zoost partnered with the health authority to travel one day a week to his hometown and work as part of the wellness team, which also includes a nurse practitioner, registered nurse, two dietitians, a physiotherapist and an emotional wellness counsellor.
What's unique about this approach is the incorporation of a specialist into primary care, the acknowledgment that not all of the patients need to see the doctor and the fact people can self refer, removing a barrier if they don't have a family doctor.
Patients seeing the most appropriate team member is essential, said van Zoost, because each has a finite amount of time and each is especially skilled at certain things. The system is about maximizing people's time and their scope of practice.
The team's composition is based on best practices as well as community consultation to determine what people needed and wanted. Programs here are designed for patients ranging from the most healthy to the most sick and complex, with interventions and care plans tailored to people's specific needs and goals with an aim toward helping them live healthier lives.
The group setting is often used because it allows the same message to be delivered to multiple people at once and because it's been shown people learn better in that dynamic. They also benefit from the support system, as Bent discovered.
"We look at increasing people's motivation, skill and confidence to adopt a more physically active lifestyle," said Bonnie Doyle, the team's physiotherapist and wellness facilitator.
"It empowers patients to really look at their own behaviours and how they can perhaps change some things in their life and in the decisions and choices that they're making to improve their health."
That's also the goal of the emotional wellness counsellor.
Jennifer Moore sees people who are struggling but still functioning in one-on-one or group settings. She can also refer people to other members of the team.
Chronic disease often has a mental health component, but sometimes a patient has a barrier in their life that prevents them from being ready to make lifestyle changes. That's where Moore can help.
"A lot of the time with physical conditions we feel the condition has control or the provider has control, but really the role that I have here is helping people see that they have control," she said. "We look at people's needs not just from a physical lens but from a holistic lens."
Overcoming operational challenges
Moore also helps act as a navigator, guiding people through the system and helping them access community resources so they aren't left to do it on their own. Van Zoost said Moore's role is "probably the most integral" on the team.
While patients are responding well to the team, making all of it happen isn't easy, said van Zoost. As a fee-for-service doctor, he has essentially volunteered a lot of time helping to set up the program and working with it the way he does. It has also been challenging at times to make other health-care providers see the need to do things differently, he said.
The team in Windsor, meanwhile, has complete faith in what they're doing and the results they're seeing.
The need for a paradigm shift
Bringing this model to other communities isn't as simple as copying it, said van Zoost. A community must be engaged to see what people need and if they'd use the service. Then, ideally, resources would be repurposed to find a more effective and efficient approach, as was done in Windsor.
Van Zoost acknowledges it's a very different way to think about primary care — and one some providers might not like — but the changing patient demographic makes it essential, he said.
"For the majority of people, yes, one-on-one care works well, but is not necessarily the only way to do it or best way to do it. And for another chunk of individuals, that is probably the worst way you could deliver care.
"But currently we are caught in this model where one-on-one care with a physician is the predominant model of care [and] I think there needs to be a shift in that paradigm."