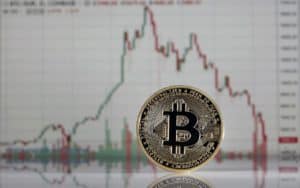 Seven of the largest crypto companies are forming a UK cryptocurrency trade body, bringing in the first self-regulation for the wild west sector worth £290 billion.
CryptoUK, whose members include the popular Coinbase exchange and trading platforms eToro and CryptoCompare, said it had produced the first code of conduct for the industry to abide by.
The companies said they hoped the regulations would form the first part of broader UK rules around volatile cryptocurrency trading.
Bitcoin's rise last year has made it a popular phenomenon, with its value increasing to as much as $20,000 (£14,400) in December, before falling below $7,000 last week. While Bitcoin has made made some millionaires it has left many amateur investors out of pocket, while others have fallen victim of cryptocurrency scams.
CryptoUK chair Iqbal Gandham said there was a risk of "rogue operators", but the new body had been established "to promote best practice and to work with government and regulators".
The group, which is self-regulating, is also seeking buy-in from the government and official regulators such as the Financial Conduct Authority. The Treasury is currently working on amendments to international money laundering rules to include Bitcoin and cryptocurrencies with an update expected in the coming months.
The group said the new body did not include Initial Coin Offerings, or ICOs, which see investors buying digital tokens in startups, often with no guarantees for their investment.
Members are expected to sign up to a code of conduct, which CryptoUK said will ensure greater due diligence against illegal activities and ensure customer funds can pay out in the event of insolvency, as well as safeguards against hacking of customer accounts.
We hope it can form the blueprint for what a future regulatory framework will look like.
Iqbal Gandham, CryptoUK
The group includes Coinbase, one of the largest cryptocurrency exchanges with more than 10 million account holders worldwide. Coinbase UK chief executive Zeeshan Feroz said: "The fundamentals are engaging as a single industry with the government. Regulation is imminent and that's a good thing."
Mr Gandham added: "We hope it [the code of conduct] can form the blueprint for what a future regulatory framework will look like."
The trade body will also include cryptocurrency companies BlockEx, CEX.IO, CoinShares and CommerceBlock.
Both the UK government and EU regulators have threatened to crack down on cryptocurrencies, with the EU issuing stark warnings that investors are at risk of a Bitcoin bubble.
On Monday, the EU's top banking, securities and pensions watchdogs all issued a warning to cryptocurrency investors that they could lose all their money as Bitcoin enters a "pricing bubble".
"[Cryptocurrencies] are highly risky, generally not backed by any tangible assets and unregulated under EU law, and do not, therefore, offer any legal protection to consumers," the watchdogs said in a statement.