Toronto based House of VR is giving sports enthusiasts a new way to experience the Olympics
If you are on the list of people who wanted be in PyeongChang, South Korea to see the XXII Olympic Winter Games but could not make it, all hope might not be lost.
Toronto based House of VR is providing live virtual reality coverage via its VR app and Assistant Manager Sappho Hansen-Smythe says it is "unbelievably easy" to use and you don't need to be a techie to be part of the experience.
"This is one of the easiest VR apps I've used in my entire life. You don't even need to press any buttons," Hansen-Smythe told CBC Toronto.
"There are lots of experiences where you can see through the athletes' eyes almost and see what they are going through," she says, adding that "there are also a few experiences where you can get to know the athletes."
When users put on the goggles, they can enjoy a fully interactive and immersive experience which Hansen-Smythe describes as intimate and beautiful.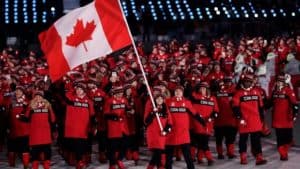 Goggles are available free of cost at House of VR and at the welcome centre of the Canadian Broadcasting Centre on Front Street, which users can collect and enjoy the virtual reality coverage in the comfort of their homes.
"There's nothing more intimate and beautiful than stepping into a world that someone else created. You can hop from venue to venue to venue and see a bunch of different experiences and it's also possible to stream live," Hansen-Smythe said.
"You can get right up close to the mascots in the ceremony. It's stunning. And seeing it in this new intimate way is really special. The Olympics are all about boundary pushing and innovation so we are bringing that to tech."
Explaining how the VR app works, Hansen-Smythe said when users put on the goggles they will see a circle with the name of the event that they want to see, stare at it for three seconds and be teleported there instantly.
The 2018 Winter Games started on Thursday, February 8 and run until Sunday, February 25