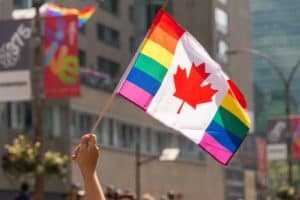 Canada is continuing its tradition of creating safe spaces for LGBT Olympians at this month's Games in South Korea.
Canada House will also serve as Pride House during the PyeongChang Games after South Korean organizers failed to raise enough money to open a standalone LGBT centre in the Olympic village, CBC News reported.
This will be the first Pride House in Asia, according to The Georgia Straight. An opening for fans was held on Saturday.
This is also the first time a Pride House is directly affiliated with a national Olympic committee.
"We recognize that diversity is our greatest strength. Inclusion is the very foundation of what makes the heart of Team Canada. By hosting Pride House in our Canada Olympic House, we are extending our warmest welcome to all from every corner of the world to celebrate 'Be Olympic'," Chris Overholt, CEO and Secretary General of the Canadian Olympic Committee (COC) said in a press release.