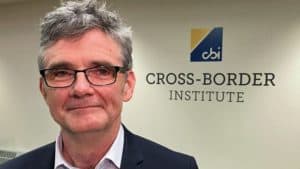 The federal government is embarking on a new pilot program that will allow people to cross borders faster if they create a digital profile filled with their personal information on their mobile devices.
The Known Traveller Digital Identity is a joint venture between the governments of Canada and the Netherlands, and will be tested first on travellers going between those countries. The plan is to have it ready for a wider global rollout by 2020.
The project announcement was made at the Davos World Economic Forum last month but has mostly flown under the radar.
According to the World Economic Forum document outlining the program, international traveller arrivals are expected to jump from 1.2 billion in 2016 to 1.8 billion by 2030. This will increase risk and security requirements for the aviation and travel and tourism sectors.
Much like other trusted-traveller programs — such as Nexus, which allows people quicker movement between Canada and the U.S. — the Known Traveller Digital Identity program will ask travellers for detailed personal information for pre-screening, including university education, bank statements and vaccination records.
Border expert Bill Anderson said security officials are keen to get people screened well before they pack their bags for a trip.
"The prevailing paradigm in border management is that we need to have risk assessment, and we need to identify those people who are very, very low risk so that you can focus your resources on the ones that you haven't identified as low risk," said the head of the Cross-Border Institute at the University of Windsor.
The pilot program will also make use of biometrics like retina and facial recognition for quicker traveller identification.
Technology company Accenture is helping develop the program. It said user information will be safeguarded and users will be able to decide whom they want to share their information with, and when, on a case-by-case basis.
Data would be protected, says Accenture
Accenture said keeping users in control of their data will be critical.
"No personal information is stored on the ledger itself, ensuring that personal information is not consolidated in one system, which would make it a high value target for subversion," the company said in a statement to CBC News.
In addition to providing personal information before travelling, user profiles would be automatically updated as they move around the world. The more borders they cross, the more trusted they will become, said Anderson.
In some ways, the program takes a page from private tech companies such as Google and Facebook that have become experts in creating profiles about their users.
"It's a crazy world where, you know, Google is able to provide information to people in e-commerce that's more detailed about you than what these security agencies have," said Anderson.
Two-tiered travel?
Anderson says critics argue the advanced screening programs create a two-tiered travel system, with those not signed up ending up in longer lines and getting poorer service.
Nina Brooks is the director of security for Airports Council International, which represents nearly 2,000 airports.
Her organization supports the development of these new technologies, but also wants a system that creates a similar experience for all travellers.
"In the long term, I think we're looking for the use of some of those concepts for the broader audience, for all travellers, and actually expediting travel for everybody, rather than a specific group of trusted travellers," she said.