12 confirmed cases, 1 death, since health authority declared outbreak in December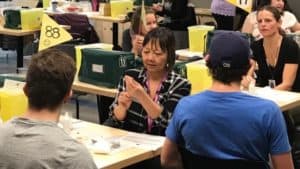 B.C. Interior Health is urging Okanagan teenagers to get immunized against meningococcal disease before the outbreak is officially declared over.
The health authority declared the outbreak in December following 12 confirmed cases and one death in the southern Interior. About half of the cases were in the Okanagan region.
Though there have been no new cases in 2018, Interior Health is advising all Okanagan residents aged 15 to 19 to get immunized while the vaccine is still available.
"We are extremely pleased with the response from the public to make immunization a priority, but are continuing to encourage those who have not yet been immunized to do so," said Dr. Karin Goodison, Medical Health Officer.
"If you know someone in the Okanagan who is in this age group, please encourage them to get immunized while vaccine is available. Immunization is one of the best ways to protect yourself against this disease."
Nearly 15,000 immunized so far
Meningitis is an infection around the lining of the brain and the spinal cord. It is contagious and usually spreads by close contact between individuals including coughing, sneezing, kissing or sharing cups and straws.
To date, Interior Health has administered 14,486 total immunizations in the Okanagan.
Once the outbreak is declared over, only students in Grades 9 and 10 will be eligible to receive the vaccine for free at health centres.
Interior Health expects to declare an end to the outbreak on February 13, assuming no additional cases of meningococcal disease are reported over the next seven days.