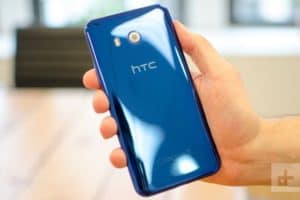 Google has acquired a select team of engineers from HTC's smartphone division for $1.1 billion in an all-cash deal, which closed on January 30, 2018. Under the terms of the unusual arrangement, the search giant won't get a direct stake in HTC — instead, it will gain non-exclusive licensing rights to HTC's current and future intellectual property.
The engineers are people who have already worked with Google to develop its Pixel smartphones, along with a range of other devices for HTC. They will now assist Google in creating, "radically helpful experiences for people around the world, by combining the best of Google's A.I., software, and hardware," according to Rick Osterloh, senior vice president of hardware at Google.
Google has also used the deal to increase its presence in the Asia Pacific region. Osterloh called Taiwan — HTC's home country — a "key innovation and engineering hub" for Google, and revealed Taipei is now its largest engineering site in the Asia Pacific area.
What it means for HTC
The billion-dollar deal doesn't spell the end of HTC's smartphone business. CEO and chairwoman Cher Wang said the Taipei company will continue to produce its own hardware, including phones in its flagship "U" series (most recently the HTC U11 Android smartphone), and Vive virtual reality ecosystem. Looking ahead, HTC will invest in "other next-generation technologies" including the Internet of Things, augmented reality, and artificial intelligence.
"As a pioneer of the smartphone market, we are very proud of our history of innovation," Wang said in an emailed statement. "We believe HTC is well positioned to maintain our rich legacy of innovation and realize the potential of a new generation of connected products and services."
But analysts seem confused about the real purpose behind the deal.
"It remains a complete mystery to me as to what Google is paying money for," noted Richard Windsor, a former Nomura Securities analyst and the force behind Radio Free Mobile.
Analysts noted the history of hardware-related acquisition deals by Google, which began with Motorola Mobility and continued with Nest and Dropcam. But the HTC deal is different, said David McQueen, Research Director at ABI Research.
"HTC has been a close partner to Google for the past ten years and has been a key manufacturer of Android and Nexus smartphones, as well as for its latest Pixel devices," McQueen said. "Moreover, HTC doesn't have the unwieldy scale and baggage that came with Motorola, and there is no sign of any manufacturing facilities swapping hands under the terms of the deal."
For HTC, the timing of the acquisition couldn't have been better. Its quarterly revenue hit a 13-year low in August.
What it means for Google
The deal is a seeming win-win for Google, as the company emphasizes its focus on consumer hardware. It launched Chromecast, an easy-to-use streaming dongle, in 2013, and that was followed more recently with the Google Pixel smartphone, Google WiFi, a mesh-based home router, the Daydream View virtual reality headset, and Google Home, a smart home speaker designed to rival Amazon's Echo speakers. Its new lineup of devices will be announced on October 4.
The deal isn't the first time Google has tapped into a major smartphone manufacturer; Google bought Motorola in 2011 for $12.5 billion, but later sold it to Lenovo at a fraction of the price. Since then, Google has heavily relied on third-party manufacturers to make, produce, and ship its Nexus and Pixel devices. HTC served as an exclusive partner last year to manufacture the Pixel XL and Pixel, but it was a new start as Google said it controlled the whole production from top to bottom.
Windsor said Google's acquisition history hasn't proven a complete success, noting that all of the companies Google has acquired struggled underneath a "a company that does not really understand hardware."
"Even with highly hardware-experienced management, these assets have struggled to perform, leaving me with the impression that just being inside Google is enough to put good hardware people off their game. I think that the case with HTC will be a little different as Google is not buying the whole company but instead is paying for some IP and taking on some engineering talent," he said. "This is where I am left scratching my head as on my numbers, HTC's smartphone assets currently have negative value."
According to TrendForce, the deal has broader implications not just for smartphones but for other areas Google dabbles in.
"From the long-term perspective, HTC with the money from Google will concentrate on developing its VR business. There is a strong possibility that HTC will also form closer ties with Google in the development of AR/VR applications." And ultimately, according to the research site, HTC's phones are doomed. "This deal … suggests that HTC will eventually withdraw from the smartphone market on account of years of weak performance."
Regardless of why, Google is upbeat and excited about the deal.
"We're excited about the 2017 lineup, but even more inspired by what's in store over the next five, 10, even 20 years," said Osterloh. "Creating beautiful products that people rely on every single day is a journey, and we are investing for the long run."