Team of divers were looking for Indigenous artifacts deep beneath the surface of Mazinaw Lake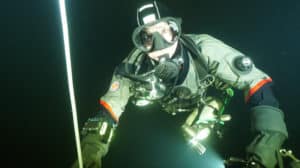 A group of divers is claiming to have set a chilly new world record for the deepest dive under ice.
The team from PTO Exploration — many of them from Ottawa — set out to look for Indigenous artifacts and to break the previous record with a dive at Mazinaw Lake in Bon Echo Provincial Park on Saturday.
The divers say the attempt was a success and that they set a record by going to a depth of 132 metres.
The last world record for deepest ice dive was set in 1997 at Lake Témiscouata in Quebec, when divers made it down to 72 metres.
Mazinaw Lake is about 130 kilometres southwest of Ottawa and is home to a collection of Indigenous pictographs painted on a rock face about 1,500 years ago.
Kevin Brown, one of the divers, said he believes there could be clay pipes, tobacco offerings and other artifacts that slipped into the water and sunk to the bottom around the time the pictographs were drawn.
"A single artifact can change the history of Canada," said Brown, who is completing a Master's degree in anthropology at the University of Ottawa and whose research focuses on underwater Indigenous artifacts.
The team didn't find any artifacts on this dive, but said it was just the first of many explorations.