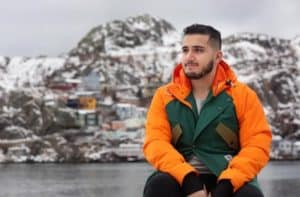 ST. JOHN'S, N.L. — Yazan Jabr was totally lost on his very first day in St. John's, N.L., when he randomly asked a man for directions to get downtown, a 20 minute walk away.
"It was very cold," Jabr, 22, recalled of that chance encounter two years ago in the middle of winter. The man, who Jabr figures was in his 50s, walked him the whole way to his destination, pointing out places of interest as they went.
"I told him it was my first day in the city and he was just super friendly. I think it's one of those things I'll never forget."
At a time in world history marked by a global trend towards slamming doors on immigration in the face of mounting economic insecurity, new polling by The Canadian Press/Ekos Politics suggests St. John's is Canada's most "open" city, where populist politics — including support for restrictions on newcomers and resistance to free trade and globalization — are least likely to thrive.
Populism is the term often used to describe the bursts of anti-elite support that catapulted outsider Donald Trump into the White House and fuelled Britain's stunning referendum results to leave the European Union.
Random landline and cell phone surveys last spring and fall of some 12,604 Canadian adults aged 18 and over asked various questions to assess populist sentiment. Respondents were asked about their financial outlook, views on visible minorities, free trade, taxation and if they approved or disapproved of how U.S. President Donald Trump is doing his job.
Data were weighted by age, gender and region. Results were considered accurate to within plus or minus 0.9 percentage points, 19 times out of 20.
"It is a pretty friendly place," Ekos President Frank Graves said of St. John's. "It may be the case that if you live in an ethnically homogenous, smaller city you tend to be less open but obviously that's not always the case."
The city of about 109,000 people, its famous colourful clapboard buildings nestled around a busy harbour, is increasingly diverse but still overwhelmingly white. And its economic engine has sputtered since the offshore oil bonanza that built luxury homes and opened swank restaurants ended when prices crashed three years ago.
That, according to conventional wisdom, is supposed to make it fertile ground for the sort of attitudes believed to underpin the 21st-century populist forces that are in play around the world.
And yet St. John's — along with Victoria, B.C., another fairly white seaside destination — tops the ranks of Canada's most open cities, Graves said. At the other end of the spectrum, the surveys suggest, are Oshawa, Ont., and Calgary, where "closed" attitudes and tepid support for immigration are spurred by a persistent and deepening fear of a worsening economy.
"Maybe it's the ocean having kind of a more cosmopolitan influence on the outlook of people," Graves said. "A lot of people come through. It's a big port.
"We see both people in British Columbia and the Atlantic tend to be more open. It's peculiar."
James Baker grew up in Carbonear, about an hour northwest of St. John's, and now helps immigrants adjust in the capital city as part of his job with the Association for New Canadians.
Those stories about big-hearted Newfoundlanders now immortalized in the hit Broadway play "Come From Away" aren't just oversweetened stereotypes, Baker said.
"Even in hard times, they recognize the challenges and wants of others and want to make sure they don't go without. They put others before themselves."
Arrivals of Syrian refugees two years ago put that generosity on moving display, he added.
"There's just a tremendous number of folks who want to help support refugees, newcomers as they settle into our province. We had a little boy who brought his birthday money to donate. I think he was 10."
The province, like other parts of the country and Atlantic Canada in particular, is an aging population desperate to attract and retain new residents. Immigration to Newfoundland and Labrador is up 40 per cent since 2012 and the governing Liberals want to raise it another 50 per cent to 1,700 newcomers a year by 2022.
Rizza Umali was born in the Philippines but spent much of her childhood in Dubai. She arrived in St. John's in 2012 to study biology and is now a graduate student in genetics. She dreams of becoming a doctor and staying in the province.
"I fell in love with Newfoundland and Labrador mainly by being involved in the student movement here," Umali said.
Staying, however, won't be easy.
Tuition for international students is more than three times domestic rates and will go up again next fall, Umali said. The path to permanent residency and citizenship in Canada is "very complicated, convoluted and confusing, so you need a lot of money," she added.
And notwithstanding the Ekos findings, the city could be even more welcoming, said Jabr, who came to St. John's two years ago to study business at Memorial University of Newfoundland. There have been ugly incidents on Memorial's campus in recent months involving Islamophobic and other racist posters.
"I know there are some people out there who are upset, who are mad, who are frustrated with the fact that immigrants are coming into the city," he said — a minority, to be sure, but evidence of the need for even more diversity and economic growth.
"I hope one day we can learn to get together … and make this city even better than what it is right now."