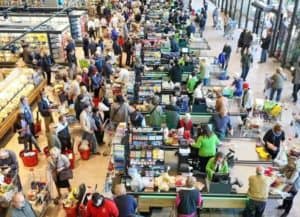 After a blissful holiday season, retailers got another reason to smile. Per Bureau of Economic Analysis, consumer spending increased $54.2 billion or 0.4% in the final month of 2017, following the revised upward reading of 0.8% growth registered in November. Meanwhile, personal income surged $58.7 billion or 0.4% in December, following an increase of 0.3% in the month of November.
Certainly, a buoyant stock market, gradual wage acceleration, a 17-year low unemployment rate and modest inflation were enough to propel consumer spending, which accounts for more than two-thirds of U.S. economic activity. Quite evident, retailers were the end gainers, as people continued their shopping spree.
Consumer Spending Playing a Vital Role
Consumer spending — one of the pivotal factors driving the economy — remains strong during the holiday season and aided economic growth of 2.6% in the final quarter of 2017. Notably, consumer spending increased at a rate of 3.8% in the fourth quarter, per the Commerce Department's latest data.
Favorable economic indicators along with friendlier fiscal and regulatory policies from the current administration bode well for the Retail-Wholesale sector. Moreover, the latest tax reform, which has resulted in the lowering of the corporate tax rate to as much as 21%, has given the much needed boost to the sector that is lately bearing the brunt of heightened online competition, lower footfall and changing consumer spending patterns.
But things have now changed in favor of retailers. Stocks once bogged down by a tough environment are now suddenly climbing the charts.
How the Reporting Cycle Unfolding for Retailers?
The sector, which currently occupies the top 19% (3 out of 16) position in the list of 16 Zacks categorized sectors, has advanced 42.5% in a year and comfortably outperforming the S&P 500's growth of 26.6%. Moreover, according to the latest Earnings Trends report, the sector is expected to record top and bottom-line growth of 8.6% and 5.3%, respectively, in this reporting cycle.
As of Jan 24, 2018, about 15.4% of the S&P 500 companies in the Retail sector have reported their results, wherein 66.7% companies delivered an earnings beat, while 100% surpassed revenue estimates. Earnings of these companies rose 9.3%, revenues surged 10.5%.
We are in the thick of the earnings season and the trend so far appears impressive. It's that time of the year again when the investor community is busy comparing estimates with actual outcomes. Prior to the releases, investors are keen on rebalancing their portfolio to include stocks that are likely to trump estimates. This is because an earnings beat serves as a catalyst, raises investors' confidence in a stock and results in further price appreciation. This leads to the obvious question of how to find the potential winners?
Prospective Winners for the Season
All said, we used the Zacks methodology and identified retail stocks that not only boast solid fundamentals but are also poised to beat earnings estimates this earnings season. Our research shows that for stocks with the combination of a Zacks Rank #1 (Strong Buy), 2 (Buy) or 3 (Hold) and a positive Earnings ESP, the chance of a positive earnings surprise is as high as 70%. You can uncover the best stocks to buy or sell before they're reported with our Earnings ESP Filter.
Here are some few companies you may want to consider as our model shows that these too have the right combination of elements to post an earnings beat:
Dollar Tree, Inc. DLTR has an Earnings ESP of +1.16% and a Zacks Rank #1. You can see the complete list of today's Zacks #1 Rank stocks here.
Sally Beauty Holdings, Inc. SBH has an Earnings ESP of +2.40% and a Zacks Rank #1.
Hibbett Sports, Inc. HIBB has an Earnings ESP of +3.01% and a Zacks Rank #1.
Macy's, Inc. M has an Earnings ESP of +1.29% and a Zacks Rank #2.
Ross Stores, Inc. ROST has an Earnings ESP of +1.91% and a Zacks Rank #2.
These five stocks are not the only ones to bet on. With the help of the Zacks Stock Screener and some permutation and combination, you can find out other retail stocks that have the potential to deliver a positive earnings surprise.
Don't Even Think About Buying Bitcoin Until You Read This
The most popular cryptocurrency skyrocketed last year, giving some investors the chance to bank 20X returns or even more. Those gains, however, came with serious volatility and risk. Bitcoin sank 25% or more 3 times in 2017.