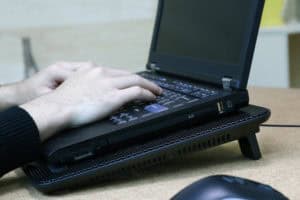 Does your laptop have an overheating problem? Nothing is worse than seeing your laptop grind to a halt in the middle of an important project or gaming session — especially when those high temperatures can cause permanent hardware damage if you aren't careful.
You can mod a desktop with all sorts of cooling mechanisms, but cooling down a laptop is a trickier prospect: That's why companies have come up with cooling pads, which are essentially laptop stands that include fans that cool down the laptop's base and back, helping to reduce temperatures even when you're on the go. It's not a perfect fix, but it really can make a difference — and a lot of them also have LED lights, because of course they do. Let's take a look at the best laptop cooling pad and how it can fix your problem!
The best
Vanble Portable Chill Mat ($18)
Vanble's cooling pad is simple, highly portable, and comes with multiple fan options, include two fan, three fan, and four fan configurations. Power comes from a USB attachment (and the mat includes an extra USB port), and there are little adjustable legs for finding the right height. Basically, it's everything you could want in cooling pad, plus one of the lightest pads on the list, make it ideal for stuffing down in your laptop bag.
The one issue you may have is that this Vanble model is designed for 15.6 to 17-inch laptops, which covers a nice, broad range.
The rest
Meco Laptop Cooler ($27)
If you want to skip straight to one of the most powerful cooling pads around, check out this Meco model with five total fans (plus some LED light decoration, or course. This metal mesh pad includes two built-in USB ports, and a rotating switch to turn the fan and lights on or off, then control the speed of the fans. It comes with six adjustable height options, too!
Keep in mind that those five fans can provide a lot of airflow, but that also means there are more components that need care, so you may not want to run this model at the highest speed all the time. The design fits 14 to 17-inch laptops.
Tree New Bee Cooling Pad ($22)
This stylish Tree New Bee pad definitely has an interesting shape, but it's the low weight and quad fans that impress us. There are also handy features such as a built-in dual USB hub, a switch to control fan speed, and adjustable "anti skid" flip-up arms to get the angle right.
That being said, a number of users have pointed out that the lightweight nature of the pad makes it difficult to support a full 17-inch laptop with the legs up, which means heavier laptops may be condemned to the flat position on this pad. The shape, while interesting, may also make it a little more difficult to store in your laptop case.
Havit HV-F2056 ($20)
This Havit pad is a bit simpler than some of our other top picks. It only has three fans, for example — but that underlines the minimalistic, slimmed down design that makes this model especially portable. It's particularly easy to slide into a bag or store next to your laptop, even in a tight case.
The stand options are a little limited but you do have two heights to choose between, along with an extra USB port. If you don't mind settling for a few less fans, this more affordable model may be just what you had in mind. The stand fits laptops between 15.6 and 17-inches, but again be wary of using especially heavy laptops.
Cooler Master NotePal X3 ($33)
This version of the Cooler Master pad is designed specifically for gaming. It has a little more weight for extra support of larger gaming laptops, and one large 200mm fan to push out a steady stream of air fast — plus, of course, those blue LED lights for showing off a little.
Notably, there's a front vent so your hands get a breath of fresh air too, all the better for staying cool and dry under pressure. It also comes with two height settings for propping up laptops and a fan speed controller, but no extra USB port. The pad is made to fit laptops up to 17 inches.
Opolar LC05 Laptop Cooler ($26)
Maybe you don't care about laptop height or angle at all, and you'd just as soon play at your normal tabletop level (or you already have a stand and don't want to mess with it). In this case, take a look at the Opolar LC05, which is a fan attachment that you plug into the side of your laptop. It still dissipates heat, and has a handy little temperature indicator as an optional add-on to keep an eye on just how hot things are.
It's specifically designed for laptops with air vents on the sides or back, especially larger gaming laptops. It is not recommended for the super compact laptops like MacBooks.