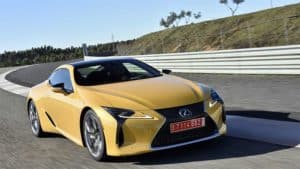 Auto Express reports that Lexus has a approved a convertible version of the LC, and is close to green-lighting a high-performance LC F trim. The Detroit Bureau reported that the same two models were in development one year ago, citing Lexus sources at the Detroit Auto Show who told the outlet "a number of additional variants" would follow the coupe's launch. The timeline's been stretched a bit between then and now; instead of getting the convertible this year, Auto Express says the "done deal" droptop should arrive in 18 months to two years.
It's harder to read what we might get in an LC F. Gossip is that the naturally aspirated, 467-horsepower, 5.0-liter V8 wouldn't be the right motor for a hot LC. That V8 serves in lower-tier F models. so word is that Lexus engineers are considering a 4.0-liter, twin-turbo V8 with around 600 hp. Lexus chose the BMW 650i, Mercedes-Benz S-class coupe, and Jaguar F-Type as competitors to the LC, all of which have convertibles and high-performance trims. Among the specially-tuned challengers, the Jaguar F-Type R comes in with the lowest power figure at 550 hp.
Both models would return Lexus to a small, exclusive end of the market where it hasn't held a membership since 2010. Rejoining that soiree — a party hosted by the Germans, because these matters always come back to the Germans — is another huge, and costly, step toward shedding Lexus' somnolent image. Akio Toyoda said the goal for his luxury arm was "that the words 'Lexus' and 'boring' never appear in the same sentence again." A three-model lineup would give the LC a genuine chance to contribute to that aim.