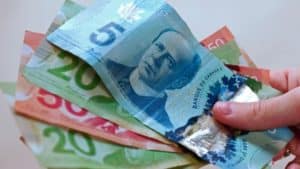 Like many Grade 12 students, Trisha Junco is interested in continuing her education after high school — but she's still on the fence if she should go for it.
Junco says she's likely going to need to take out a loan.
"I'm still going to be in college, yet I'm already in debt for something. I'm planning for ways … to pay for it," said Junco, who has a part-time job. "That's one thing I'm worried about."
Junco attends O'Neill High School in Regina, where she's taking a personal finance class. To date, the Ministry of Education says 10 school divisions have been approved for the course, along with the Department of Adult Education 12 at Saskatchewan Polytechnic, Regina Campus and Cumberland College.
Junco's concerns are not unfounded.
Scott Hannah, CEO of the Credit Counselling Society, says today's youth are starting behind the eight ball if they need to get large student loans.
"Unless you are [among the] fortunate who have parents who set aside funds for you or you qualify for a lot of scholarships, you're graduating with $25,000, $35,000, $45,000-plus worth of debt — and that's how you're starting your career," he said.
People less likely to save today
The Credit Counselling Society released a report in January showing there has been an increase of people under 35 years old coming to the organization for help to deal with unemployment since 2010.
Hannah feels that people today are less likely to save for emergencies, retirement and for other reasons; instead, they feel a need to keep up with Joneses.
"So the values that they were taught from their parents in terms of being careful with their money — you've got to save and everything else, because you never know what's coming around the corner — weren't passed onto the generation here, so they're ill-equipped," he said.
"They don't have the financial skills and knowledge to understand the impact of taking on student loans."
Teachers are taking notice as well.
Class teaches financial concepts
Michael Knight, who teaches the personal finance course at O'Neill, said the idea of a class began as a university project among business education students at the University of Regina 10 years ago.
The class teaches students about topics such as saving and investing, credit cards, budgeting, income tax, buying homes, insurance and buying versus leasing vehicles.
Knight said money is a taboo subject that isn't necessarily discussed at home. In class, students get to ask questions they may not feel comfortable asking their parents.
"I find when I tell the students to go home and talk to their parents and tell them what they learned today, oftentimes parents are responsive," said Connie Perrault, who teaches the class at Riffel High School.
"I got one email saying, 'I knew nothing about this. Thank you so much [for what] our daughter taught us.' "
Youth, parents want to learn more
The demand for the class has grown at O'Neill from one class to two classes taught per year. Knight attributes the growth to word of mouth.
Jill Labas, who recently started teaching the class at Campbell Collegiate, says she's received a lot of positive feedback from her students.
"They say, 'I can't believe how much money I was actually spending' or 'I can't believe how much it actually costs to [pay] bills.' I think it's a real eye-opener … Hopefully it's going to build some pretty successful adults," said Labas.
O'Neill Grade 12 student Josh Warsylewicz says the class has immediate and real-world applications. He thinks the class should be mandatory.
"If we can teach kids at a younger age how to manage their money properly, that could be useful for all of Canada," he said.
Perrault and other teachers say most adults who learn about the course wish they could have taken it or that their children could take it as well.
She hopes the course becomes part of the provincially approved curriculum, noting that the business community is onboard with providing young people with financial skills and literacy.
During provincial consultations with sector partners in 2016, stakeholders expressed the need for a financial literacy course in the area of practical and applied arts (PAA) and the infusion of financial literacy into K-12 curricula.