Kiera Rigby says she likes having 'a lot on the go.' Good thing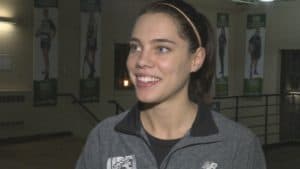 What can't Kiera Rigby do?
The student athlete has balanced books and basketballs in all her five years at UPEI which may seem quite ordinary for many student athletes, but the Charlottetown native has much more on her plate lately.
To go along with her sports and studies she also finds the time to volunteer at the Queen Elizabeth Hospital emergency room, host a number of charity events and continue her honours research.
"I like having a lot on the go, it keeps me busy," said the four-time Academic All-Canadian athlete.
'She's amazing at that balance between athletics, academia and community.' — Marva Sweeney-Nixon
Rigby is also involved with the school's chapter of World University Services of Canada, she also volunteers with the P.E.I. Association for Newcomers as well as the Canadian Cancer Society, Chances Family Resource Centre, the Arthritis Society and more.
Though she's happy to fill up all the hours in her day, Rigby is also quite humble about her work.
She said she's just like other students in "the melting pot" at UPEI.
"I'm just a student who goes here, I'm an athlete who plays for this university and I love this university with my whole heart," she said.
"As long as I know that I identify with more than basketball and sports, that's what keeps me going."
'She's just so committed'
Those around her have taken notice of the athlete's dedication as well.
Marva Sweeney-Nixon, a professor at UPEI and has taught Rigby in three courses, said the student athlete has reached "a very high academic standard" that pairs well with her athletic achievements.
"She's just so committed to everything that she does … she's an engaged student, she speaks in class in a very quiet way but a really engaged way," Sweeney-Nixon said.
"She's amazing at that balance between athletics, academia and community."
Ron Annear, the varsity co-ordinator at UPEI, said the student athlete always comes up with ideas to help people in the community and it makes her stand out.
"What sets her apart in my mind … is her interest and desire to reach out to the community and be a Panther ambassador and get involved with various initiatives that are current and important," Annear said.
"She's the one that comes forward with a thought, with an idea, with a group that she'd like to support in some ways that we're able to do that as a Panther family."
This is Rigby's final semester at UPEI. She has applied to several physio programs to follow up her bachelors degree and said she plans on being just as active wherever the road takes her next.
"I'll still be trying to have a positive influence on everyone I come in contact with," Rigby said.
"Those are character-building experiences that I've learned at being at university that I'll take with me for the rest of my life … it's definitely not the end for me."