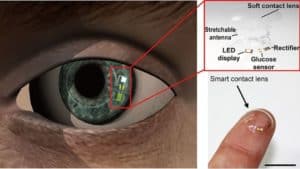 Scientists have developed a soft, flexible contact lens that will allow diabetics to monitor their blood sugar with the blink of an eye. The lens is able to detect a patient's glucose levels in their tears using built-in wireless sensors.
Project leader Jihun Park, of Ulsan National Institute of Science and Technology (UNIST) in South Korea, told news service SWNS "This strategy does not require the expensive tools or brittle components currently used in many 'smart' lenses, which can block the user's field of vision and even harm the eye."
According to UNIST, the biggest drawback with smart contact lenses is wearability.
So Park's team developed a special sensor that uses electrodes made of highly stretchable and transparent materials that make the lens easier to wear. Through an embedded wireless antenna in the contact sensor, patients can transmit their health data, allowing real-time monitoring of their health.
Dr. Park explained the wireless display has an LED pixel that can detect changing glucose levels, while at the same time displaying the information.
"After detecting the glucose level in tear fluid above the threshold, this pixel will turn off – a cue to the wearer," Park added.
Researchers hope to use the method for pre-diabetes detection, and other health conditions.