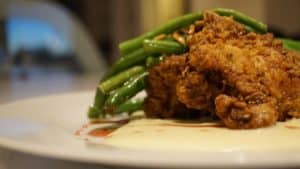 A finger-licking good festival in Winnipeg this week might make it hard for some people to keep their healthy New Year's resolutions.
Fried Chicken Fest brings together chefs from 15 local restaurants to compete for the best fried chicken in the city. The festival will feature a wide variety of styles of fried chicken influenced by cuisines from around the world.
Co-organizer Allan Pineda, founder of local pop-up dinner series "Manila Nights," was approached with the idea of doing the festival a few months ago. At the time, a new book of Filipino recipes was about to be published, and it contained Pineda's own fried chicken recipe.
"My recipe is from my mom. It was made with rice and no utensils," he said in an interview on CBC's Weekend Morning. "Our fried chicken, we don't bread it that much, for Filipinos."
Pineda says he tried some of the best fried chicken he's ever had on a trip to Korea.
"It was super simple, but it was so good. It was different from here… Maybe it was the beer, I don't know, it was just really good," he said.
The festival runs from Jan. 21 to 28. Participating restaurants include Underdogs, Tallest Poppy, Kyu Grill, Inferno's on Academy, Pine Ridge Hollow, and La Carnita.
People can vote for their favourite dish online.
Pineda has his own preferences when it comes to fried chicken.
"It can't be too greasy, that's one. Nobody wants to eat a mouthful of grease. It can't have too much breading, I think. I don't want to be eating a whole bunch of just bread and no chicken, which everybody's had once or twice."
As for anybody concerned about breaking their healthy diet Pineda has advice for those people too: "There's always a cheat day somewhere."