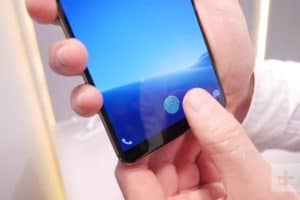 The first smartphone with a very desirable in-display fingerprint sensor will launch at the end of January. It won't come from Apple, Samsung, LG, or another familiar brand; but Vivo, a Chinese manufacturer that has been working hard to perfect the technology where others have failed. We know it has done a great job, because we went hands-on with a working prototype of the phone at CES 2018, and ended up giving it a coveted award.
Vivo couldn't confirm the launch date outside of early 2018 or the final name of the device at the time, but has now announced an event on January 24 in Beijing, where the Vivo X20 Plus will be revealed, complete with the in-display fingerprint sensor. Rumors have previously suggested the phone will be named the X20 Plus UD (presumably for Under Display), but this isn't certain. The associated teaser image shows a swirling pattern that looks a little like a fingerprint, complete with the strap line, "Unlock the future."
The Vivo X20 Plus already exists and was announced in October last year. The specifications of this modified version are likely to be very similar, and are in-line with the device we saw at CES 2018. These include a 6.4-inch screen, a Qualcomm Snapdragon 660 processor, 4GB of RAM, and a dual-lens 12-megapixel camera on the back. We liked the stylish phone demoed in Las Vegas, especially the almost bezel-less screen.
However, it's the fingerprint sensor that will attract all the attention. Vivo worked with sensor company Synaptics to integrate the Clear ID in-display fingerprint sensor, and it performed very well in our tests. We spent some time with the phone, and found the sensor to be accurate, fast, and simple to setup and use. While Vivo will be first out with such technology, expect others to follow in 2018. Apple and Samsung were both rumored to be working on a similar fingerprint sensor for release in a phone during 2017, but were unable to produce a model suitable for release at the time.
We don't know how much the Vivo X20 Plus with an in-display fingerprint sensor will cost yet, and we doubt it will be sold outside China, at least for a start. Vivo has recently release the V7 Plus internationally, and a desirable model like the X20 Plus would be a great follow up release. We'll keep you updated.