Quebec government reveals more details of plan to spend $1.4B more on educating kids aged 0 to 8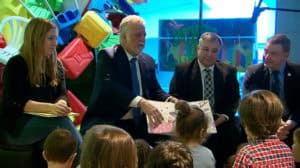 The government will spend another $1.4 billion between now and 2022 on children aged eight and under, in a bid to increase young Quebecers' chances of educational success — particularly students from disadvantaged backgrounds.
Among the measures, children in kindergarten or pre-kindergarten will be screened for vision problems, to eliminate poor eyesight as a factor contributing to learning difficulties.
Tuesday's announcement by Premier Philippe Couillard, Education Minister Sébastien Proulx and Family Minister Luc Fortin comes after November's economic update, in which the government promised to invest another billion dollars in health and education over the next six years.
Couillard said Tuesday that $350 million of the $1.4 billion announced Tuesday is beyond what was announced in November or in last spring's budget. He said some projects are already in the works.
More free school breakfasts, more pre-K classes
Most of the planned measures are aimed at children coming from disadvantaged backgrounds, including the opening of more early childhood education centres and more full-time pre-kindergarten programs for four-year-olds in underprivileged areas.
"When we speak about our children, we speak about our future," said Couillard.
The government will also more than double the number of schools serving disadvantaged children at which free breakfast is offered — from 300 to 725 schools.
Other measures included in the plan:
More resources for daycares for screening and monitoring preschoolers in difficulty.
Improved links between the daycare network, and health and social service networks, to get help more quickly for children in difficulty.
The addition of 8,000 resource specialists, including speech pathologists, occupational therapists and learning assistants, to the elementary school network across all regions of Quebec.
A new preschool cycle between pre-kindergarten and kindergarten for four- and five-year-olds. School personnel will receive pedagogical support for the new cycle. The emphasis will be on encouraging reading and writing skills down the road, beginning with learning the alphabet.
Financial support will be made available to promote parental involvement in their children's education.
Catching problems early
Couillard said that only one in five preschool-aged children is tested for vision problems now in Quebec. The government will launch an awareness campaign to encourage parents to have their children tested.
By screening children in kindergarten or pre-kindergarten, the government hopes to prevent misdiagnoses of learning disabilities.
Education Minister Sébastien Proulx said that he'd already begun meeting with the Quebec Order of Optometrists about the screening plan.
The plan also includes funding for family literacy initiatives and improved access to age-appropriate reading materials for kids under eight, including:
Newspapers aimed at three- to five-year-olds and another for six- to eight-year-olds, to encourage interest in reading.
"Family literacy" programs in public libraries, as well as a program in school libraries to help parents encourage their children's reading skills.
Interactive maps online to help parents find family services.
This echoes the move by the federal Liberal government in June to foster "fully inclusive" early education and child care services across the country, committing to give $7.5 billion to the provinces over the next 11 years.
Electronic records
The government also plans to create an electronic file for every child entering the school system, which will follow the student until graduation.