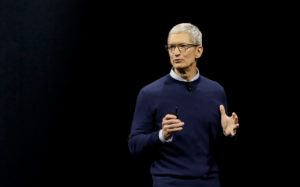 iPhone owners will be able to disable a feature that slows down their mobiles as their batteries age, Apple's chief executive has said.
Tim Cook said a forthcoming update to iOS will allow users to turn off the slowdown feature after its emergence led to dozens of lawsuits and a probe from French authorities.
Apple admitted last month that it "throttles" the iPhone 6, 6s, SE and 7 when their batteries degrade, a change designed to prevent the phones from shutting down unexpectedly. It has apologised and cut the price of battery replacements, but denied that it slows down phones to encourage users to upgrade.
Speaking to ABC, Cook said users will be able to turn off the throttling feature in an iOS update, although he said he did not recommend it as it could lead to the phones shutting down unexpectedly. A developer preview will be released in February, meaning the public release is likely to be a month later.
"We're gonna give people the visibility of the health of their battery so its very very transparent, this hasn't been done before," Cook said. "We will tell somebody we're slightly reducing your performance by some amount in order to not have a sudden restart, and if you don't want it you can turn it off."
"We don't recommend it, because we think people's iPhones are really important to them and you never can tell when something is so urgent."
He added that Apple could have been clearer about the fact that iPhones were being slowed down. "Our actions were always in service of the user, maybe we should have been clearer at a point of time but our actions were always the purest.
"If anybody out there believes we did something nefariously we apologise for any kind of thing that we did or didn't do."
Apple faces lawsuits in several countries over the matter as well as an investigation by French prosecutors under the country's "planned obsolescence" law.