Heart rate cameras, robots featured at Canada Museum of Science and Technology
A one-day exhibition in Ottawa is exploring the crossroads between science and art through immersive 3D projects designed to challenge how people think and feel about the latest technology.
The first-ever Galatecha event is taking over the Canada Science and Technology Museum Saturday. It presents the works of local and international artists who've been exploring everything from augmented and virtual reality to monitoring and surveillance devices.
"We are really hoping we can inspire people to start thinking about how tools like virtual reality or surveillance equipment even or wearable technology can influence … how you connect with each other," organizer Thomas Radford told CBC Radio's In Town and Out Saturday morning.
"[I hope people] leave with some profound questions about where they think we're going."
From robots to heart rate cameras
One installation features a collection of scrap-metal sculptures made from broken machines and discarded technology. Another showcases a collection of fine glassware created using manufacturing equipment.
The exhibition will also feature a space where people can dance and their moves are then projected as works of art, as well as a demonstration of a beach-cleaning robot designed in Ottawa.
Researcher Lee Jones is presenting an installation of "calm technology," including a camera-equipped device that can visualize a person's heart rate as water.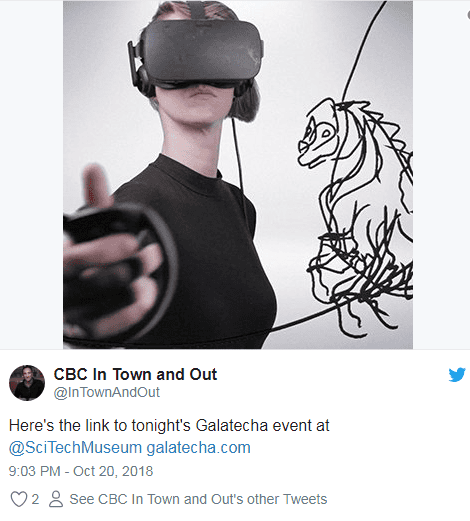 "[It] can measure heart rate from a distance so you don't need to be plugged in," Jones told In Town and Out. "You just walk by and it can read your heart rate."
Jones said her aim is to explore the risks associated with this sort of technology, and hoped people will think about whether they feel comfortable with a device that can publicly monitor heart rates.
"Art is a great way to like communicate the research that's going on, so people can really see how this camera is reading you — and get creeped out by it in a way that you wouldn't with other research," she said.
Galatacha takes place at the museum from 8 p.m. until midnight.