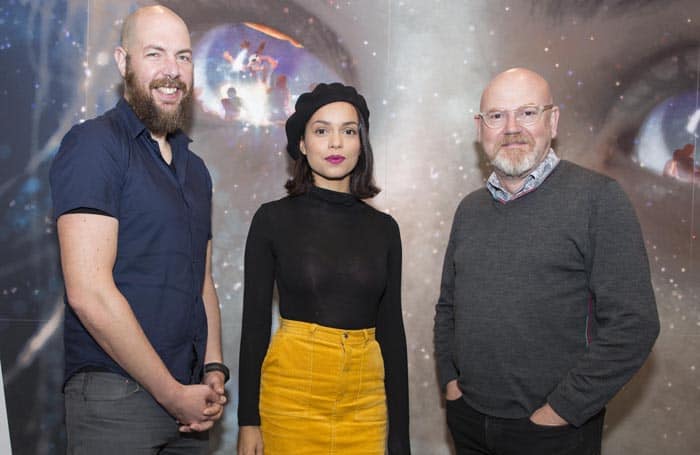 A £10 million project to support the development of immersive technologies in the creative industries is being launched.
Billed as a centre for immersive storytelling, it will be run by the National Film and Television School and Royal Holloway University and focus on the development of virtual, mixed and augmented reality.
The two London-based organisations won a competition from UK Research and Innovation to run the initiative.
Theatre, film, TV and gaming companies will be able to use the centre, while immersive theatre company Punchdrunk is one of the partners on the project.
The bid by the National Film and Television School and Royal Holloway University to run the centre was supported by figures including Lenny Henry, film-maker Asif Kapadia and actor Georgina Campbell.
As well as experimental labs, workshops, placements and courses, StoryFutures Academy will support and co-fund immersive productions.
NFTS and Royal Holloway will offer short courses at a range of locations in the UK after a year of learning from experimental labs. Ultimately, both institutions aim to launch master's programmes in a range of immersive specialisms.
The centre is funded by the government's Industrial Strategy Challenge Fund, and is part of a £33 million Audiences of the Future programme, which aims to make the UK a world leader in immersive technologies.
Announcing the winning bidders during a speech at the Raindance Film Festival, Andrew Chitty, from Audience of the Future, said: "The UK has an opportunity to lead the world in adopting immersive technology to find new audiences and create ground-breaking content.
"But to do this we need to develop our creative talent to make the best of this new medium. StoryFutures Academy is a partnership that brings together exceptional researchers, a world-class film school and partners across the industry who will not only support the centre but gain the benefit of its graduates."
Digital and the Creative Industries minister Margot James said immersive technology, including watching live theatre productions in the cinema, is "opening up a huge range of exciting new possibilities".
"We are determined to be the best place in the world to start and grow a digital business, and by backing this new StoryFutures Academy we will help our world-class creative talent captivate the audiences of the future," she added.