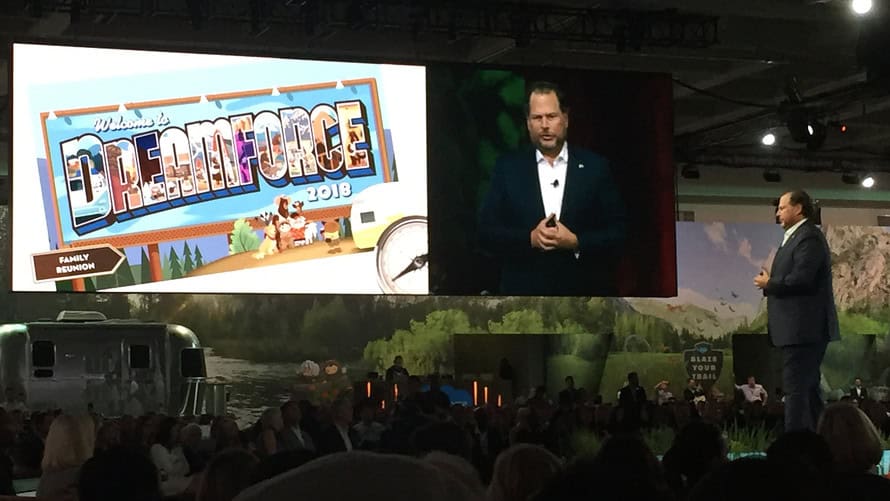 CFO Hawkins says customers who split time between cloud providers like Amazon, Google and Microsoft or with their own servers spend 10 times more than others
Salesforce.com Inc.'s revenue will be supported by customers who use more than one public cloud service, the software giant told analysts Wednesday at its Dreamforce convention in San Francisco, while maintaining its forecasts.
After Salesforce CRM, -0.34% shares closed down 0.3% from a record high Wednesday, Chief Financial Officer Mark Hawkins reiterated the company's forecast at the company's Investor Day. Salesforce expects revenue of $13.18 billion this year to grow to $21 billion to $23 billion in fiscal 2022. Analysts surveyed by FactSet expect $13.17 billion in fiscal 2019.
That march to $23 billion is powered, in part, by Salesforce customers who have data that is spread across multiple cloud providers like Amazon.com Inc. , Microsoft Corp. and Alphabet Inc., or on hybrid cloud systems with internal servers, Hawkins said. The CFO said that 38% of its customers are multicloud customers, but Salesforce generates 92% of its revenue from that minority of customers, which spend 10 times more on average than their single-cloud customers.
"This will power durable growth for years to come," Hawkins said.
Organizations that use more than one cloud service is on the rise, often using the one cloud service as a backup in case the other goes down, according to Maribel Lopez, principal analyst at Lopez Research.
That works into Salesforce's recent $6.5 billion acquisition of MuleSoft, which closed in May. MuleSoft uses application programming interfaces, or APIs, to help companies access or unlock data across legacy and mobile systems, and helps Salesforce power its Customer 360 product that allows it to gather customer data from a variety of sources and cloud platforms.
MuleSoft contributed $122 million in revenue during the most recent quarter, the company reported recently, which was more than expected. Salesforce did not increase its guidance for MuleSoft, but said it would report the acquisition's contribution to revenue in future quarters. Earlier in the year, Salesforce said MuleSoft would contribute $315 million to revenue for the year.
Salesforce earnings: MuleSoft makes up about 4% of Salesforce revenue in debut
The way Salesforce structures it sales through subscriptions also supports the company's confidence in its forecast, Salesforce Deputy CFO David Havlek said. Havlek said that about 80% of the company's revenue was under contract at the start of the year, and about 60% of revenue is under contract two years out.
On Tuesday after the market closed, Chairman and Co-Chief Executive Marc Benioff delivered the convention's opening keynote and highlighted its Siri-enabled Einstein Voice, following an earlier announcement that Salesforce was partnering with Apple Inc. AAPL, +1.03% Einstein uses artificial intelligence to provide predictions and recommendations based on a company's business processes and customer data.
Salesforce shares are up nearly 55% for the year, compared with a 6.7% rise in the Dow Jones Industrial Average DJIA, -0.40% , an 8.7% gain in the S&P 500 index SPX, -0.33% and a 15.8% surge in the tech-heavy Nasdaq Composite Index COMP, -0.21%
Of the 42 analysts who cover Salesforce, 38 have buy or overweight ratings, four have hold ratings and none have a sell rating, with an average price target of $169.42.