'This is just the mountaintop'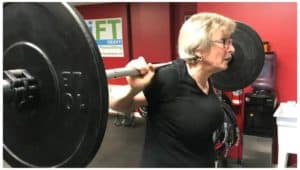 Arlene Van Diepen, from the tiny community of Green Meadows near the North Shore of Prince Edward Island, only started competitive powerlifting last year and she already has world championship medals to show for it.
The 60-year-old battled through serious health issues on her way to the International Powerlifting Federation World Classic in Calgary earlier this month.
"Doing this is just the mountaintop, knowing what I have gone through, with the pain and the illness, and to be able to do something like this. It's just the best feeling," said Van Diepen.
Van Diepen was diagnosed with Crohn's disease when she was 18. It made everything she did a struggle.
"I was still working. I never stopped working but I [was in] severe pain all the time and very run down," she said.
In 2000 Van Diepen had surgery to remove her large bowel, and now has to wear an ostomy pouch. But what may have seemed like a setback led to a major improvement in her health.
"When I had that surgery it was like immediately zero pain. [It] was pretty awesome," she said.
A surprising suggestion
In recent years, Van Diepen has been working out at Full Throttle Fitness in the nearby community of Morell.
Last year, owner Courtney Steele asked her a surprising question. Would she be interested in trying competitive powerlifting?
Her initial reaction was no. She felt she was too old to start on something like that, but Steele convinced her to give it a try.
Part of her reluctance was concern about competing in front of a crowd with her pouch strapped to her side. She found, however, that the training gave her a new confidence in her body.
"I loved it right away," said Van Diepen.
"You're competing against yourself. You're just trying to improve."
A mental slip
It turned out Van Diepen's decision to compete put her on a short road to Calgary. She faced no competition in her age and weight class regionally, and then won bronze at the nationals, which qualified her for the world championship.
She won a bronze in deadlift (137.5 kg) and bench (55 kg), but lost focus in the back squat.
"If I had've been able to keep my head in the game for the back squat the results would have been better," she said.
She ended up fifth overall.
The medals have only increased her confidence, she said, and she is looking forward to future competitions.