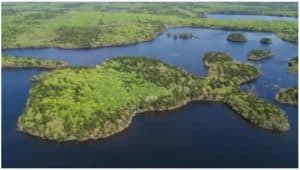 South of Weymouth, N.S., there's an island in a lake with no official name. Mary Guptill has spent the last 30 years buying it up, parcel by parcel.
She's done it all for a plant — the endangered sweet pepperbush.
"I decided that it should continue to exist and that I would do my best to allow it to exist," Guptill told CBC's Maritime Noon.
Sweet pepperbush, a tall plant that sprouts fragrant flowers in late summer, is listed by the Committee on the Status of Endangered Wildlife in Canada.
It once grew all over eastern North America. In Canada, its existence is limited to six lakes in Nova Scotia.
Convincing landowners
Guptill feared cottage development on the 20-hectare island on Belliveau Lake in Digby County would push the plant closer to extinction.
She convinced the island's private landowners to sell her their parcels with the understanding she would one day find a steward for it. She acquired all but 2.5 hectares.
This month, it was announced she donated that land to the Nova Scotia Nature Trust.
"I don't really think we can own land," said Guptill, a forester by trade who's spent time hiking and camping on the island.
"After we die, the land stays and we draw all our wealth from the land. We draw all our resources from the land."
The island is also home to rare trees that, thanks to soil and species composition, the Nature Trust says "are well on their way" to become old-growth Acadian forests.
Finding 'caretakers'
The Nature Trust believes conservation of private land similar to what Guptill has done is critical to protecting biodiversity. The island, which Guptill has suggested be called La Grande Île, is now part of 4,450 hectares of land under the organization's watchful eye.
Guptill, 60, says many have thanked her for her efforts that began when she was in her 30s.
"We borrow the land from the future and we're only caretakers for a short while," she said. "So I think we should tread more lightly on land. And that's what I hope to do."
The only other protected habitat for sweet pepperbush is by Louis Lake, part of the Tusket River Wilderness Area.