'We are all basically the same'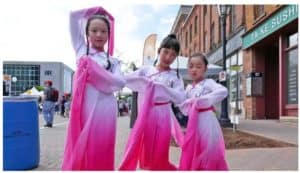 The first of three DiverseCity multicultural street festivals scheduled for this year on P.E.I. was in Charlottetown Sunday.
The cultural event closed down part of the downtown to traffic and had vendors and exhibitors set up in the street.
P.E.I. groups and people with different cultural backgrounds set up stalls to talk and share about different experiences and lifestyles.
There were stations selling foods from around the world and cultural performances showcasing international talents.
"It basically gives people a better understanding of the world," said Nkine Bissong, who was with a group showcasing Nigerian fashion.
"Events like this are very important to bridge that gap and make everybody know that we may be different but we are very similar. We are all basically the same."
The next DiverseCity event will be held in Montague on July 15, with the final cultural street festival taking place in Alberton on July 22.