Old-timers hockey team made up of Islanders has raised $1.3M over 13 years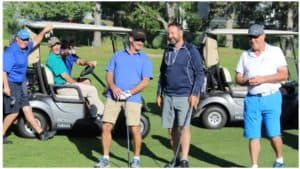 A big donation is on its way to the P.E.I. Chapter of the Children's Wish Foundation from a group of Islanders who now live in Calgary.
The P.E.I. Rum Runners, a Calgary hockey team made up of Islanders, are donating $50,000 to help children's wishes come true. They raised the money at their annual summer golf tournament fundraiser.
The remaining $50,000 raised will go to the Calgary chapter of the Children's Wish Foundation.
The idea to raise funds for the Children's Wish Foundation came from Wayne Stewart, who is originally from West Point, P.E.I., and plays on the hockey team.
He said the old-timers hockey team got its start in the late 1970s.
"It's a bunch of guys originally from Prince Edward Island that moved to the west and just started playing some hockey together and it's still going," he said.
From a get together to a tournament
The team was getting together to play golf and have a barbecue so Stewart said he suggested they have a fundraiser to benefit a children's charity.
"When I asked, there were lots of guys on board to jump on the committee and do what we could."
That was 13 years ago and Stewart said while their initial fundraising goal was small, they quickly set it higher after a visit to the Calgary chapter.
Amount growing
That first year they raised $40,000 and that amount has been growing ever since, with one year's total reaching $154,000. After 13 years, the group has raised $1.3 million.
Stewart said knowing the money is helping children makes it worthwhile.
"It sends chills down your spine when you start talking about it," Stewart said.
"We usually have a wish child at the event, and the family speaks and, you know, tells their story and what it's all about … You want to see a room full of 150 guys with a few tears in a room. You just need to be at one of these events."