Environmentalists say B.C. Timber Sales allowing massive fir and cedar trees to be cut on Vancouver Island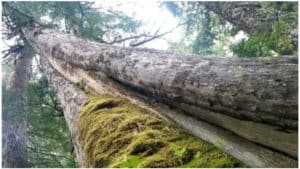 The B.C. Ministry of Forests says there will be a review of a policy put in place in January to preserve large and old trees from being cut down.
The move comes after environmentalists decried government agency B.C. Timber Sale's auction of cutting areas on Vancouver Island that include massive, old growth fir and cedar trees.
B.C Timber Sales or BCTS manages timber cut on public land in B.C.
The Ancient Forest Alliance, Sierra Club B.C. and the Wilderness Committee want old growth trees — some up to 1,000 years old — protected because they are an integral part of B.C. ecosystems and have cultural significance for First Nations.
"We are running out of time to protect B.C.'s most productive ancient forests, where some of the biggest, oldest trees on Earth are found," said Andrea Inness with the Ancient Forest Alliance in a statement.
In January, the BCTS put into place a best management practice for large and old trees, described as legacy trees.
"Legacy trees are exceptionally large and old and a unique feature of British Columbia's coastal forests," reads the policy.
Retaining legacy trees
The policy agrees that the trees have important cultural, aesthetic and ecological value. It sets out protocols so that when loggers come across the trees in cut blocks, they will make an effort to leave them standing.
The protocols include measurements for yellow cedar, coastal Douglas fir, Sitka spruce and Western red cedar, which should be retained if they meet or exceed the size.
"However, despite best efforts, it is also recognized that it may not be possible to retain all legacy trees," reads the policy.
Make policy stronger
Environmentalists say the policy has too many loopholes that allow loggers to bypass it.
In May, the Ancient Forest Alliance says loggers did not follow the policy in the Nahmint Valley outside of Port Alberni, where massive trees, some as tall as 70 metres and three metres in diameter, were cut.
The ministry says the best management practice came into effect after that specific timber sale was laid out.
Now, it says the policy will be reviewed to make it stronger but has not said how that will be done or when the review will be complete.
Environmentalists argue that up to 90 per cent of old growth forests on Vancouver Island have been logged.
Meanwhile, the ministry says that there about 520,000 hectares of old growth forests that will never be logged on Vancouver Island.
In the Nahmint Valley on Vancouver Island near Port Alberni where environmentalists documented old growth logging, the ministry says the BCTS has identified 250 old-growth, large-diameter cedar trees to preserve.
"Government is continuously reviewing practices to ensure healthy ecosystems and that logging is sustainable," it said in a statement.