1 in 6 people with dementia will wander from caregivers, Alzheimer Society says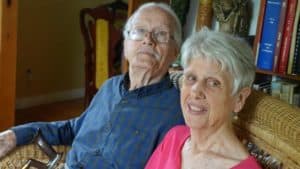 For much of his life, 92-year-old Gerard Chetelat has been on the move.
Chetelat was born in Switzerland where he trained as a precision mechanic before becoming a Jesuit priest. He went to Indonesia as a missionary and set up a technical school on Java, where he fell in love with a Canadian nurse. They married and had two children, and the family spent time in various European cities before making the move to Ottawa, where Chetelat embarked on a 20-year teaching career at Algonquin College.
It's a very important thing because it gives you peace of mind.
– Lois Chetelat
Now grappling with advanced dementia, Chetelat remembers very little of his remarkable past. But he's still constantly on the move, and his wife Lois is taking every precaution she can to keep him from wandering away from their home in Ottawa's City View neighbourhood.
"A few months ago Gerard starting wandering at night downstairs and I was concerned he might then wander in the neighbourhood, be lost and not know where he was, " she said. "I was concerned that I might not wake up and hear him."
According to the Alzheimer Society of Canada, one in six people with dementia will become lost at some point. Half of those who go missing for more than 24 hours risk serious injury or death.
Motion sensors connected to alarm
Through a smart technology research project offered by Ottawa's Bruyère Research Institute, the Chetelats have had their home outfitted with several motion sensors connected to an alarm system. If Gerard attempts to leave the house in the night an alarm will sound, waking Lois.
The project, called Smart Home: Wandering Solutions in Dementia, is based on technology designed by the Champlain LHIN. The research is led by clinical researchers at the Bruyère Research Institute and engineering researchers at Carleton University, with recruiting help from the Dementia Society of Ottawa and Renfrew County.
In the Chetelats' home, the first line of defence is at Gerard's bed, where a pressure sensor has been placed under the mattress pad. When he gets up at night, the change in pressure sends a message to the home's computer hub. When he returns to bed, the system goes back to sleep, too.
If Gerard proceeds downstairs, however, he passes a series of small motion sensors that pick up on his movement. If he approaches the front door, he trips another sensor that activates a message recorded by his wife, telling him to go back to bed.
If he tries to open the door, it triggers a gentle alarm intended to wake up Lois.
Customized features
Researchers can customize additional safety measures such as activating lights or sending the door alarm directly to the spouse's mobile phone.
"I want Gerard at home, and it's a small thing but it's a very important thing because it gives you peace of mind," Lois said.
Frank Knoefel, a doctor with Bruyère Research Institute's memory program, helped design the anti-wandering technology with the aim of helping dementia patients stay home with their families for as long as they safely can.
"The person with dementia has difficulty with time and place, and especially at night because the nighttime can be scary for them," he said.
'Gentle persuasion'
Knoefel said a gentle voice message from a loved one is more effective than a jarring alarm because "gentle persuasion" works best with dementia patients.
Four families have signed up for the first phase of the research project. Knoefel and his team want to increase that number to 20, and they'll be looking for the same number to participate in the project's second phase.
The technology also offers the caregiver a better quality of life, Knoefel said.
Lois, who's fit and nimble for 79, admits the mental stress of caring for a loved one with dementia can take a toll.
Commercial interest
The project is also helping researchers, who are collecting data about how dementia patients wander.
Each family keeps the system for three months. At the end of the second phase, Knoefel and his team will evaluate the project's success at keeping patients safe.
It costs about $1,000 to equip each home, with funding for the pilot phase coming from the Champlain Local Health Integration Network and the Centre for Aging and Brain Health Innovation at Baycrest Health Sciences in Toronto.
Preliminary talks with telecommunication and home alarm industry companies about manufacturing and selling a version of the system have been positive, Knoefel said.