Costco (NASDAQ: COST) will announce its fiscal third-quarter earnings results after the market closes on Thursday, May 31. And if recent history is any guide, the warehouse retailer is likely to reveal strong growth on both the top and bottom lines. But there will be much more to this report than just those headline sales and earnings numbers.
Below, we'll look at a few of the biggest investor questions that should get answered in this earnings announcement.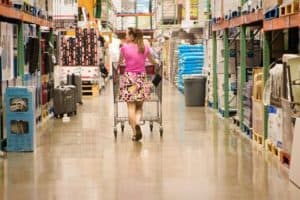 Where is the growth coming from?
Costco releases monthly sales updates, so we already know revenue expanded at a healthy pace this past quarter. Sales at existing locations jumped 7% in March and rose at the same robust pace in April, too. Thus, the retailer should announce an expansion rate that's still running at about twice that of peers like Walmart and Target.
Looking beyond the headline numbers, I'll be watching customer traffic for signs that Costco is still having no trouble convincing its members to trek out to its stores. Both Walmart and Target had to rely on e-commerce sales to deliver an increasing portion of their sales growth this quarter, after all. If Costco noticed the same trend, then traffic growth figures might have dropped from the 5% rate it posted in the most recent quarter. Such a move would be more worrisome for Costco, since its smaller sales footprint gives it less flexibility to drive shopper traffic through digital initiatives that stress in-store order pickups.
How many new members joined this quarter?
Whereas traditional retailers earn their profits through product markups, most of Costco's earnings come from its subscription sales. That fact makes membership fees a critical number for investors to watch. The figure jumped 13% in the fiscal second quarter thanks to the combination of a growing pool of members and higher average annual fees.
Subscriber income growth should be especially strong this year as the company continues to roll its membership base on to its higher annual rates. And Costco is also on track to launch 23 new locations this year even as Walmart shuts down dozens of Sam's Club stores. These factors should allow for healthy gains over the 92.2 million members the company had on its books as of the end of the fiscal second quarter.
Are subscribers still loving the shopping experience?
Investors had been waiting for a rebound in Costco's membership renewal rate for almost a year following a credit card switchover that disrupted its signup trends. We finally saw a modest uptick last quarter when the rate ticked up to 90.1% from the 90% it had been stuck at for the prior six months. Management sounded relieved to see that critical metric moving in the right direction again, too. "I'm happy to see what we expected came true and we're seeing a slight improvement [in the renewal rate] now," CFO Richard Galanti told investors in a conference call.
The renewal rate peaked as high as 91% in fiscal 2014 and fiscal 2015 before falling in the next two years. A solid rebound this year will boost important metrics like membership fees and customer traffic. It would also add weight to management's claim that the value of a Costco membership isn't being diminished as customers shift more of their home and grocery spending toward online sales channels.