The housing will be operated by non-profit providers, who can apply for funding for new projects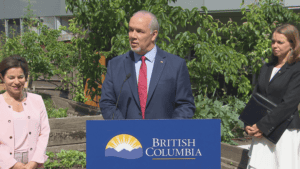 The B.C. government says it will build 1,500 supportive homes across the province for women and children fleeing violence.
The province will invest $734 million over the next 10 years to build and operate the new units, including transition houses, safe homes, second-stage and long-term housing.
Premier John Horgan says it's the first significant investment in transition and supportive housing in 20 years and will give needed security to women and children escaping dangerous situations.
"Often times, it's difficult to escape the cycle of violence, because often women feel they don't have an alternative," he said.
"We need to do more to ensure that there is hope for women fleeing violent situations, and more than hope, we need to have practical solutions."
The new housing is to be operated by non-profit providers and will include staff who will provide a range of services, including emotional support and safety planning.
The money was originally announced in February's budget as part of the government's 30-point plan to improve access and housing affordability in the province.
Joanne Baker, executive director for the B.C. Society of Transition Houses, applauded the move.
"If you're a woman who in the past has experienced violence … what this means is there will be some additional, second stage housing that you can live in, usually for one to two years, after you have fled violence," she said.
However, both Baker and government officials couldn't say whether the units would ensure enough space in the future for every woman fleeing a dangerous situation.
"Fifteen hundred units of housing is great news. It's a drop in the ocean of what's needed … but this is a really important step."