Ready, Set, Grow! grooms graduates for work in landscaping, an industry facing a serious labour shortage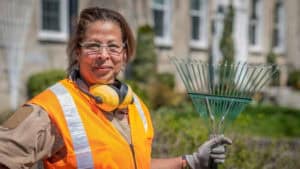 Seven years ago a repetitive strain injury to her wrists and shoulders forced Wendy Harper to give up hairstyling, a career she loved.
With a learning disability and poor reading and writing skills, the prospect of starting over in a new job was daunting.
She persisted, last summer, at the age of 63, she finally received her high school diploma. The Ottawa literacy agency that helped Harper graduate suggested she enrol in something called Ready, Set, Grow!
The free, Ontario government-sponsored training program matches adult students facing challenges with local landscaping companies facing a desperate shortage of workers.
Some trainees are older and have been out of the workforce for years, while others dropped out of high school more recently.
A professional landscaper teaches them technical skills such as proper pruning techniques and plant selection. The intensive two-month course ends with a two-week job placement with a local landscaping business.
12 to graduate
Twelve students will graduate from the program at the end of May, including Harper.
"I just figured if I could [graduate] then I could do anything," she said "The most important thing was that I was going to be working outside and doing what I love."
Harper, who immigrated from Trinidad and Tobago in 1974, recalls growing vegetables with her grandfather, and today maintains a large garden at her Ottawa home.
She knows that embarking on a new career at a time when many are retiring won't be easy.
"There are days that I am young in my mind but my body isn't all there," she said. "My husband thinks I'm crazy, but I want to give it 110 per cent."
Important life skills
In addition to teaching gardening techniques, Ready, Set, Grow! also imparts important life skills.
"It's a huge confidence builder for the students. It really makes them feel valued and feel they can go out after the program and participate in the workforce," said Georgina Smith, a literacy and basic skills instructor at St. Nicholas Adult High School, and co-ordinator of Ready, Set, Grow!
Smith teaches the importance of punctuality, clear communication and how to accept constructive criticism.
The graduates are filling a need in the industry. According to estimates, Ontario's landscaping companies are short more than 25,000 workers across the province.
Living Green Landscaping co-owner Lindsey Ross jumped at the chance to take Harper on for her two-week job placement, and said there could be a job opening if she can cope physically with the tasks at hand.
"For someone who hasn't done it before there is a learning curve for your body to get used to," Ross said. "But she has a fantastic attitude and she learns really quickly and she's done really well."
'We've changed people's lives'
Ready, Set, Grow! was developed by the Rideau-Ottawa Valley Learning Network, an umbrella organization for adult literacy groups in eastern Ontario.
It began when Landscape Ontario, the provincial trade association, approached the network to help develop a curriculum that would groom graduates for the industry — not the way government-sponsored programs are typically born. (The $149,000 it takes to run the program comes from the Ontario Centre for Workforce Innovation.)
"We've changed people's lives and we've given them really strong skills," said Lisa Ambaye, the learning network's director. "We've opened doors that were otherwise closed."
Organizers will follow the students' progress over the next year and offer more training, whether they land a landscaping job or not.