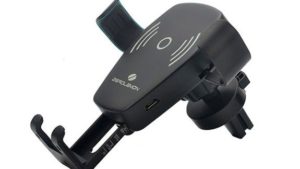 Sorry to get all grim here, but when you get behind the wheel, you become responsible for your life, your passengers' lives, and the lives of your fellow drivers. So don't be mucking around with your phone while you're speeding down the highway, ok?
Get yourself a Fast Wireless Car Charger mount and keep your phone front and center — no fumbling around between the seats required.
This secure charging mount clamps onto your air vent, wires into your car's 9V power outlet, and adjusts to accommodate any Qi-compatible device between 58mm and 88mm, and up to 10mm thick (including the iPhone 8, Samsung Galaxy, and Samsung Note).
Once cradled safely, your phone or tablet will regain battery power at top speed, thanks to the charger's Qualcomm Quick-Charge 3.0 technology. And to ensure a clear line of sight without distractions, the Fast Wireless Car Charger rotates left to right and pivots vertically to provide the ideal viewing angle for following along on the GPS.
Save 35% on this wireless charger, bringing the price of $39.99 down to only $25.99.