Last week, PayPal Holdings Inc (NASDAQ: PYPL) announced it would be acquiring the European-based payment-processing company iZettle for $2.2 billion in an all-cash deal. The money represents about one-third of PayPal's $7.8 billion war chest.
iZettle may be best known for introducing the world's first mobile attachment capable of accepting EMV chip-embedded credit cards and is sometimes referred to as the "Square of Europe." At first glance, the two companies have a lot in common. Like Square Inc (NYSE: SQ), iZettle not only provides payment-processing services to small- and medium-sized businesses but also offers a more robust commerce platform that acts as a sticky ecosystem.
iZettle is expected to generate revenue of about $165 million this year while processing approximately $6 billion in total payment volume. Though that might seem to make PayPal's $2.2 billion bid expensive, iZettle has grown revenue at a 60% annualized rate since 2015, and as a stand-alone entity, it was expected to be profitable by 2020. The acquisition is expected to be finalized in the third quarter.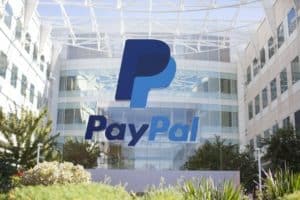 Two peas in a pod
In the press release announcing the deal, PayPal CEO Dan Schulman said, "iZettle and PayPal are a strategic fit, with a shared mission, values and culture — and complementary product offerings and geographies … With nearly half a million merchants on their platform, Jacob de Geer and his team add best-in-class capabilities and talent that will expand PayPal's market opportunity to be a global one-stop solution for omnichannel commerce."
Schulman definitely seems to be right in that PayPal and iZettle appear to be a "strategic fit" with complementary offerings and markets. For starters, the acquisition immediately gives PayPal an in-store payment-processing presence, where it previously had none, in no less than 11 markets: Brazil, Denmark, Finland, France, Germany, Italy, Mexico, Netherlands, Norway, Spain, and Sweden. It also will tremendously accelerate PayPal's omnichannel growth in the Australia and U.K. markets — (not so) coincidentally, two geographic areas where Square recently launched.
iZettle also has a much stronger presence in point-of-sale payment processing and merchant services than it has e-commerce services. Combined, the two entities will immediately be able to offer an impressive suite of omnichannel tools and a true global presence to merchants that competitors such as Square will be hard-pressed to match.
Exactly what PayPal was looking for
PayPal made it known it was on the hunt for possible acquisitions when it sold off its consumer credit portfolio to Synchrony Financial last fall. At the time, pursuing merger and acquisition opportunities was one of the reasons it gave for looking to free up the capital that lending directly to consumers involved.
In February, at the Goldman Sachs Global Technology and Internet Conference, COO Bill Ready revealed what PayPal was looking for in potential acquisition targets. Though I didn't connect the dots at the time, iZettle was almost certainly in Ready's mind as he said:
You don't really have to buy as much if you're really good at building and partnering. We've been great at both of those, but we certainly look at what might we go buy. And the things that we would tend to think about are things that could be great enablers of new commerce experiences … [T]he most differentiated part of what we do is that there's something that can enable new types of commerce, those things are interesting, new geographies are interesting. Those are the types of things that we tend to look at. We would be less interested in things that are sort of traditional payments, some of the commoditized aspects of payments, those kinds of things … but the things that would light up new buying experiences or light up new geographies those are definitely things that we think a lot about.
iZettle seems to perfectly fit the bill for the type of acquisition PayPal has been looking for since at least jettisoning its credit portfolio last year. The company gives PayPal access to new markets while supplying it with new tools and platforms to offer merchants at the point-of-sale.
Given PayPal's already impressive market share of e-commerce and mobile commerce, this grand entrance into the traditional retail world in new markets looks like another winning hand played by PayPal.