2 community consultations this week for project approved in 2016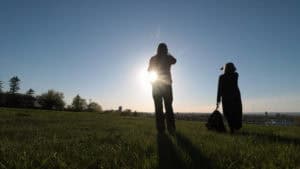 Carlington residents will soon get a look at plans for an outdoor mountain bike facility at a local park — and there's both excitement and trepidation about what they'll see.
In September 2016, Ottawa city council approved a proposal put forward by the Ottawa Mountain Bike Association (OMBA) to build the facility on top of a former ski hill in Carlington Park.
That proposal involved creating a circuit of small hills and jumps called a "pump track" along a plateau at the top of the hill, with a nearby area for mountain bikers to practice their skills.
Now, more than a year and a half after council gave the go-ahead, the OMBA will be presenting its latest vision later this week at a pair of community consultations arranged by River ward Coun. Riley Brockington.
"There's a lot of experienced hands and eyes that have looked at this, designed it, and did some modifications to it," said Jim Winkel, a Carlington Community Association member who's part of a working group involving the mountain bike project.
"So I'm pretty excited to see this draft coming out."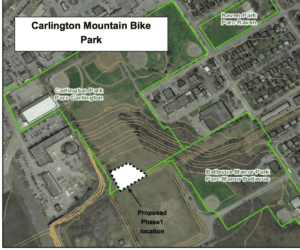 Could start work this summer
The initial plan was to install the tracks and jumps in 2017, but that was delayed to both spread word about the facility and apply for funding, said OMBA member Marc Brulé, the project's volunteer coordinator.
Last fall, the OMBA received a grant from the City of Ottawa that would match the association's contributions to the project up to $153,000.
City staff initially said the project would not receive municipal funding.
The association is now in the midst of a fundraising drive, Brulé said.
An online crowdfunding campaign had raised roughly $3,500 as of Monday afternoon.
Both Brulé and Winkel said Carlington Hill makes perfect sense for the outdoor, free-of-charge facility, given its proximity to bike trails and public transit and the fact it's in the middle of an inner city suburb with a large number of young people.
"I think that this will give a good venue to one of Ottawa's more challenged neighbourhoods," said Brulé.
"So I view it as a good thing."
Park 'a real gem'
Carlington Hill, however, is already a popular spot for people to walk their dogs, exercise, and commune with nature — and some users would prefer it stay that way.
"I see this as a real gem. I'm an amateur naturalist. I'm a forager. This is one of my living labs. And it has been for almost my entire life," said Sharon Boddy, part of the Friends of Carlington Hill community group.
The group has about 70 "core members," Boddy said.
It has multiple concerns about the project, including whether it will block off existing pedestrian pathways and how significant its ecological impact might be.
We don't see in OMBA's plans how they've given consideration to [fitting] in to the existing community in a harmonious way.
– Linda Landry, Friends of Carlington Hill
Both Boddy and Linda Landry, another Friends of Carlington Hill member, said they felt basic details about the project haven't been forthcoming — such as how garbage will be hauled away from the site or whether it will be fenced off.
They both hope they'll get answers at this week's meetings.
"People here do a lot of different things. They're running up and down the hill, they're biking through, they're playing games with their friends," said Landry.
"All of that's going on, and it's working very well. And we don't see in OMBA's plans how they've given consideration to [fitting] in to the existing community in a harmonious way."
Small footprint
The first consultation takes place Friday afternoon at the Carlington Recreation Centre, while the second is scheduled for the next morning at the Bellevue Community Centre.
Brulé said the city-allocated land for the project would only cover a "small percentage" of the park.
"I think that we're not looking at things that will take away all of [the park's] space," Brulé said.
"We're going to share the park."
While pump tracks built in other communities have been fenced off — typically to protect them from being damaged when it rains — Brulé said that's not part of OMBA's plans.
He said it would be "a real shame" if people dug their heels in over the facility.
"From what we have seen [in] a number of other places that have put in bike parks, there's not a lot of conflict once the bike parks are in," Brulé said.
"It's really amazing how you see people from all walks of life, all ages, all ability levels in the same area. It really works well."