Council approved bid Monday night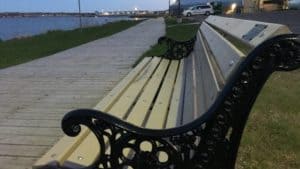 The next phase in the replacement of the Charlottetown boardwalk will begin in the next couple of weeks.
At its meeting Monday night, council approved the low-bid from James C. Johnson Associates for $119,025 to do the work. They also passed the quote of $7,475 from CADC for project management and professional fees for the project.
The work will start at HMCS Queen Charlotte and run to the Maritime Electric Pumping Station, allowing this section to match the others the city has done over the past two years.
"We're putting down a different type of material. What we had in Victoria Park was an inch and a half spruce lumber, it wasn't treated." said Coun. Mitch Tweel, chair of the parks and recreation committee.
The new material is treated, marine-grade lumber.
"We're striving to have the same material and have that consistency with the boardwalk all along the waterfront."
Tweel said the maintaining the new section has been much easier with the new material.
"The difference is night and day," he said.
"It got to the point where it was virtually impossible for the staff to do any type of maintenance, replacing, you know, single boards and whatnot, nails were coming up, it wasn't safe for boardwalk users. So that's why we made the investment that we did."
The work is expected to be completed by the end of June.