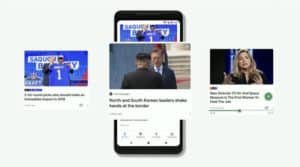 A redesigned Google News for iOS was a notable inclusion at the Google I/O keynote last week. Today it rolls out officially, replacing the existing Google Play Newsstand, which launched on iOS in 2104 as a news and magazine subscription hub. The app has been completely reimagined, designed to handle the ever-evolving way we consume news, and leveraging existing AI and machine-learning technology to create a personalized and curated experience. Most importantly, it draws from a variety of sources to deliver packages of opinion, analysis and fact-checked articles focused on specific newsworthy events, giving users a solid platform from which to make up their own minds about current affairs.
The app comprises three main components: "For You", "Full Coverage" and Newsstand. "For You" gives you a quick overview of five stories, based on your past reading habits, although you can edit this by telling the app to show you more or less content on a specific topic. "Full Coverage", as you'd expect, digs deeper into news events, displaying stories from a variety of sources (although you can't set preferences for these), as well as timelines for ongoing issues. Newsstand gives access to pay-walled news outlets. Simply subscribe to a publication and view its latest content in Google's mobile-optimised AMP standard. The app is available in the iOS App Store now.
This article originally appeared on Engadget.