What happened
Shares of BJ's Restaurants Inc. (NASDAQ: BJRI) were flying higher last month after a strong first-quarter earnings report gave the stock a boost. According to data from S&P Global Market Intelligence, shares finished April 24% higher.
As you can see from the chart below, the bulk of the stock's gains came on April 27.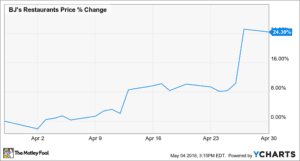 So what
Shares of the casual-dining chain jumped 13.4% after it beat estimates in it first-quarter earnings report and posted solid numbers across the board.
After comparable sales had fallen in five of the last six quarters, the key metric surged this time around as same-store sales were up 4.2%. Guest traffic only increased 0.4%, but management said an improvement in sales mix, with the help of higher-priced menu items from its new slow-roasted menu, helped drive the increase in comps
Overall revenue increased 8%, to $278.5 million, beating estimates at $274.5 million. Earnings, meanwhile, benefited from lower commodity food costs, as well as the increase in comparable sales, and adjusted earnings per share increased from $0.42 to $0.67 with the help of the new tax law, easily topping expectations at $0.53.
CEO Greg Trojan said the company's strong performance was "led by our slow roast menu items, Daily Brewhouse Specials, our handheld server tablets and investments in our off-premise channels."
Now what
Shares of BJ's approached an all-time high as investor enthusiasm for the stock returned following a sustained lull in its performance. Shares dipped slightly in the first week of May, but management seemed optimistic about the rest of the year. Trojan said that middle-income consumers were visiting its restaurants more and spending more, and delivery continues to lift revenue, as off-premise sales were up 30% in the quarter.
While the company didn't give specific guidance, investors should expect momentum to continue into the upcoming quarters. Considering BJ's still anticipates doubling its store base over the long term, the stock has plenty of room to run.