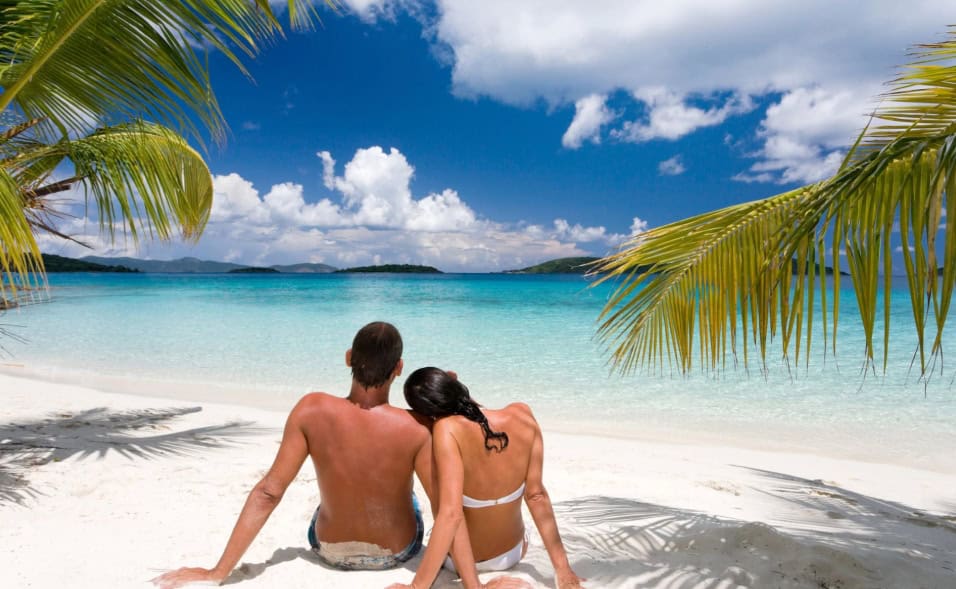 After months, perhaps years, of wedding planning, a honeymoon is a much-needed, highly anticipated break for most couples. An exciting chance to get away together to a dream destination, whether that be the beaches of Tahiti or trekking in Nepal.
However the task of organising that trip of a lifetime can create unnecessary stress by placing further financial strain on top of soaring wedding costs and, with a bewildering array of options online, become a time-consuming exercise. Throw in silly disagreements about the type of honeymoon you want – two weeks on a beach versus a cultural city break – and the whole thing can start to feel like a chore.
Thankfully help is at hand. Here's ten tips to follow to ensure your budget is set, your planning goes smoothly and your first holiday together as Mr & Mrs is fun from start to finish (and you may even get an upgrade)…
1. Set your budget
As with most event planning, the best place to start is the budget. Before you both start day-dreaming, work out how much you can realistically spend and agree to stick to it. Once you've got a figure you can begin weighing up the options: if you're both into luxury travel, for example, a night or two in a five-star might be preferable to a week in a three-star. Money can also go much further in some far-flung destinations, such as Thailand and India, where accommodation, food and drink tend to be far cheaper than, say, Italy.
However basic doesn't always mean bargain according to James Bell, managing director of honeymoon specialist Turquoise Holidays. "Remote and basic honeymoons sometimes come with the heftiest price tags, such as our mobile safari options in Kenya – expensive no longer always means luxurious in the traditional sense of the word." As well as setting a budget, try to put aside money each month for spends: no couple wants to arrive at their honeymoon destination unable to experience it fully due to lack of funds.
2. Consider a honeymoon gift list
If the wedding's causing your bank balance to drastically shrink (or worse still go into the red) but you're still determined to have an amazing honeymoon, consider ditching the traditional gift list (do you really need a new set of plates? probably not) and opt for a honeymoon list instead. These clever, tailor-made online sites allow guests to contribute to a getaway fund, or help pay for individual experiences while you're there. Check out Buy our Honeymoon and Zankyo.com which allow couples to design their own web page. Still fancy a new toaster as well? You can now add a Kuoni honeymoon to a John Lewis gift list, giving guests plenty of options, home and away.
3. Timing is everything
Along with deciding how much to spend, you also need to work out how long you can go away for as this will help determine your destination choice. Only got a week to spare? Think about sticking to short-haul destinations which you can easily reach in a day, or longer-haul places but which don't leave you jet-lagged, such as South Africa. Remember you can get better deals in Europe outside peak holiday and wedding time (July and Aug) so if you can't go away straight after the wedding don't despair, you'll save money in the long run and have a holiday to look forward to.
4. Weather to go
If you've both fallen in love with a destination, check what the weather will be like when you want to visit. The Maldives is the most popular Brit honeymoon destination but the best time to actually go is Jan-March, way outside traditional British summer wedding months (June-August). Similarly, honeymooners' favourite the Caribbean is better in the winter, when temperatures are warm, humidity is lower and there's less chance of rain (however you can get better deals in the summer months). If you find you have a weather clash but want to get away post-wedding, consider a Euro or UK mini moon, followed by a longer, far-flung honeymoon later in the year.
5. Compromise is key
It's possible you're united in your choice, such as a beach holiday, but chances are one (or both) of you is hankering to use this precious time and money to go somewhere and do something you've never done before – whether that's hot air ballooning above the Serengeti or going to the opera in Verona. In which case, work together to look for destinations that can offer a variety of experiences and make sure the other person knows your travel wishes. Some of the best honeymoons take in double or even triple destinations with contrasting activites, such as an African safari followed by a week in Mauritius, or Greek Island hopping and a long weekend in Athens. And if you still can't decide…
6. Call in the experts
Just because you usually arrange every aspect of your holidays yourselves, from the flights to the airbnb, doesn't mean you should for your honeymoon. It really can pay off, financially and mentally, to use an expert tour operator or honeymoon planner who could potentially save you money, many hours of trawling the internet, locate the best deals, probably get you some in-the-know freebies and discounts and, crucially, help find a destination that suits both of your wishes. "We encourage couples to share each and every one of their ideas as our staff are trained to take them on board and find their paradise trip, saving them much time, energy and money," say James Bell, managing director of honeymoon specialist Turquoise Holidays.
7. Book early
Don't buy flights and then 'see where things take you'. Spontaneity on holiday is great, but this isn't a gap yah and the last thing you want on honeymoon is a night in a hostel dormitory because there were no other options available. This is one trip where it's better to book everything (flights, accommodation, transfers) well in advance and you'll probably save money too. Janet Hoolohan, group sales director at Virgin Limited Edition, recommends booking at least six months beforehand. "Whilst it's tempting to hold out for last-minute deals, a lot of hotels will offer advance rates for early bookings. It means there's one less thing to plan, and you're also more likely to have a greater choice of room categories so you can pick the one that is best for you and your special trip."
8. Keep your documents in order
If either of you is changing your name when you wed, you'll need to alter the name in your passport which you can do up to three months before the ceremony by filling in the Passports for newlyweds and civil partners form. Be sure to allow plenty of time for it to be altered and returned. In addition, check all your other documents and bookings relevant to the trip are under the changed name, such as airline tickets and driving licence (in case you need to pick up a hire car while you're away). And even if neither of you is altering your name, do make sure you have at least six months left on your passports as a last-minute dash to the passport office isn't an ideal start to married life.
9. Be vocal
Tell everyone it's your honeymoon. From travel agents and hotel owners to airline staff and spa managers, you'll be surprised how responsive people can be around romance and the consequent perks you might get – a complimentary glass of Champagne here, a room upgrade there, which combine to make it an even more memorable trip. In addition, if there's something you'd love to experience but don't see included on your hotel's website, don't be afraid to ask, says Janet Hoolohan, group sales director at Virgin Limited Edition. "Most hotel managers will understand how special this trip is so will usually be more than happy to fulfill special requests or go above and beyond the norm."
10. Make it your own
Some couples feel pressure to make this the most loved-up holiday of their lives and end up booking something they'd never normally go for, yet sometimes the most obviously romantic resorts (couples-only, aphrodisiac meals, his and hers massages) don't necessarily hit the spot. Who's to say that learning to dive in Belize and then staying in boutique hotels in Guatemala isn't romantic? Thankfully couples are increasingly rewriting the honeymoon rules and looking for once-in-a-lifetime experiences to suit them, whether that be a polar adventure or a tropical island paradise resort with a white sand beach. To emphasis the point is the emerging trend of a matesmoon, where couples are joined by friends half way through the holiday (providing they can wade through the rose petals and negotiate the candle-lit tables of course).