Media invited aboard test run from Tremblay to uOttawa stations Wednesday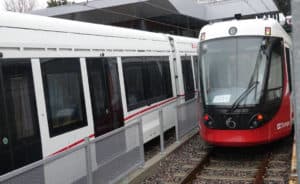 What's it like to ride the rails of Ottawa's future light system?
The city offered to take a lucky few along on a test run Wednesday from Tremblay Station to the University of Ottawa.
CBC's Giacomo Panico hopped aboard with a camera.
Here's his first-hand account of what it was like to test the tracks.
Quiet. Smooth. Clean.
Those were my first impressions as our light rail train left Tremblay Station for the short trip to the University of Ottawa and back as part of Wednesday's media tour.
Compared to the jarring and rattling one often feels aboard OC Transpo buses, this ride was far gentler and free of the rumble and hum of the diesel-powered O-Train.
And then there's the smell. As Mayor Jim Watson noted as he boarded the train for his first-ever ride on the Confederation Line, it has that "new car smell."
As the automated doors closed and the conductor announced "all aboard" over the public address system, our train gently accelerated for what was to be a brief ride, with stops at Hurdman, Lees and uOttawa. Along the way, the large windows offered us lovely views of the Rideau River — and thick traffic clogging Nicholas Street in the rain.
The train's interior will look familiar to OC Transpo riders, with its blue fabric and yellow posts, and a mixed arrangement of seats and benches facing forward, backward and sideways. Several seats are arranged face-to-face, so be prepared to make some new friends during your commute.
After nine-and-a-half minutes, the trip was over. We'd arrived at uOttawa, stopping just shy of the eastern entrance to the 2.5-kilometre tunnel that will carry the trains under downtown Ottawa. As with the O-Train, these vehicles have cabs at both ends, enabling operators to simply make their way to the opposite end of the train to start the return journey.
As a lifelong resident of Ottawa who's ridden OC Transpo buses and the O-Train for too many years to mention, this ride felt like a refreshing, predictable and smooth way to get around town, all while enjoying some great views.