Educators offer training, but currently no requirement for new drivers to take it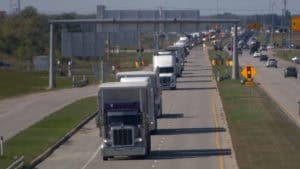 New training standards could be coming for commercial truck drivers in Manitoba.
The provincial government announced it is consulting on implementing a standardized system of mandatory training and certification for commercial truck drivers, something the head of the Manitoba Trucking Association says they have advocated for years.
"This concept is not novel, it's not radical, it's just long overdue for transport truck drivers and so this is a real good step in that direction," said Terry Shaw.
Educators in Manitoba already provide training that is approved by Manitoba Public Insurance, but there is currently no requirement for new drivers to access this training.
Infrastructure Minister Ron Schuler said Manitoba Infrastructure, Manitoba Education and MPI will work together on the consultations.
Ontario is the only jurisdiction in Canada that currently has standardized training for truck drivers, although Alberta and Saskatchewan are considering similar measures.
On Thursday, the Saskatchewan government said in a memo obtained by CBC News it will begin mandatory training for semi-trailer drivers in 2019, according to a memo sent to the province's driving instructors. The email referred to the fatal Humboldt Broncos collision earlier this month between the team's bus and a semi. The crash left 16 dead and 13 injured.
Both Schuler and Shaw said that the Humboldt crash had nothing to do with their announcement. Schuler said the idea has been floating around for at least 10 years.
Drivers who currently hold Class 1 licences would likely be grandfathered in, similar to the practice in Ontario, Shaw said.
Schuler said he has spoken to his counterparts in other provincial governments and would like to see a national standard, or at least a standard across the western provinces.
"We do need a standard across the country, trucks don't just drive within their jurisdiction, they do drive across the country," Schuler said.
There is currently a high demand for truck drivers in Manitoba. Shaw said it is the 16th most in-demand occupation in Manitoba, with about 44,000 Class 1 licences and 55,000 licensed trucks.