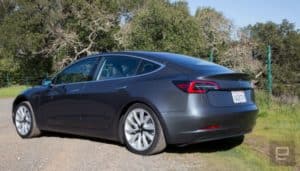 As Tesla attempts to meet its own projections for Model 3 production, Buzzfeed reports that it is temporarily shutting down the car's Fremont, CA assembly line — where a report earlier today claimed it's undercounting injuries — for four to five days. This follows a similar pause in March, and the company gave the same response now as it did then, saying "These periods are used to improve automation and systematically address bottlenecks in order to increase production rates. This is not unusual and is in fact common in production ramps like this."
Last year Tesla projected it would manufacture 5,000 of the mass-market aimed EVs per week by the end of Q1 2018, but its production report a couple of weeks ago showed the number at 2,020. CEO Elon Musk has recently pointed out an over-reliance on robots and battery module production at its Gigafactory in Nevada as limiting factors. Now Musk has pointed out July as a potential target, saying that production of AWD models is likely to begin after it hits the 5,000 per week number.
This article originally appeared on Engadget.