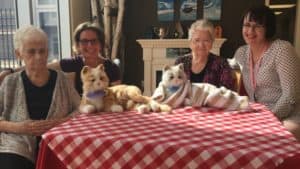 One long-term care home on P.E.I. is trying to recreate the comfort of pet companionship for residents with dementia.
Summerset Manor in Summerside has introduced eight sensor-activated robotic pets in its dementia wing which purr, meow and move around, creating a lifelike experience for residents.
"Just a beautiful cat to have around the business," said Earle Dyment of his new companion, Peaches, who brings a smile to his face.
Since getting the pets, patients have fewer "behaviours," and need less medication, said occupational therapist Tania McQueen.
"If they're agitated for any reason or feeling lonely, they go and get their cat, and it calms them," said McQueen.
The manor's auxiliary bought the first two pets in January, and they were so popular McQueen knew they'd have to expand the litter. The manor encouraged residents' families to buy pets for their loved ones.
Each pet costs between $120 and $150.
'It will calm them'
"It's giving the residents a new role in caregiving," said McQueen. "It empowers them to know that they've got to look after this animal. And the beautiful thing about this is there's no litter, there's no feeding, all they've got to do is give it love."
Most of the time the residents don't seem to notice the cats are mechanical, said McQueen.
The manor does bring in live animals for therapy but the robo-pets are convenient for comfort and companionship, at any time.
"If somebody's agitated at three o'clock in the morning, you can't get a therapy dog in here," said McQueen. "Whereas one of these can be put beside them and it will calm them down."
Not only are the animals a familiar presence for seniors who had pets throughout their lives, they may also encourage residents to be more engaged and help their cognition, said McQueen.