Over the last several years, artificial intelligence (AI) has emerged as one of the most important trends in technology. The AI techniques of deep learning and machine learning have resulted in everything from improvements in search, to image recognition, to voice-controlled digital assistants, to self-driving cars.
While the prospects created by this technology are enormous, estimates vary as to the size of the market. Deep learning, the most promising area of AI research, was forecast to generate $4.8 billion in 2017, growing to $261 billion by 2027, achieving a compound annual growth rate of 49% according to a report by Persistence Market Research.
Even if those estimates are overly optimistic, they serve to illustrate the massive opportunity created by AI. It also explains recent announcements by Microsoft (NASDAQ: MSFT), Alphabet (NASDAQ: GOOGL) (NASDAQ: GOOG), and Apple (NASDAQ: AAPL), that each is placing additional emphasis on the nascent technology.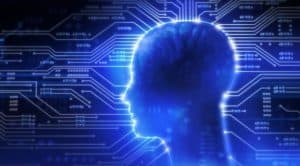 Doing the corporate shuffle
Late last month, Microsoft announced a major reorganization that focused the company's resources squarely on its biggest opportunities — artificial intelligence (AI) and cloud computing.
Microsoft will organize its efforts behind three engineering teams. The first team will be dubbed Cloud plus AI Platform and focus on emerging high-growth technologies and will divided into four business units: business AI, universal store and commerce platform, AI perception and mixed reality, and AI cognitive services and platform.
The second will be called Experiences and Device and will include Surface products as well as Windows and Office. The team will be working to create a unified experience across a multitude of devices, and it will be broken down into four segments: devices, Windows, new experiences and technology, and enterprise mobility and management.
The existing third team, AI plus Research, will continue as it has for the past two years, focusing on "the adoption of AI innovations from research into product."
This shouldn't be too surprising, as Microsoft's AI-based Azure cloud computing operations grew 98% year over year in its most recent quarter, and the company has become the most significant competitor to Amazon Web Services (AWS), the current leader in the space.
Google follows suit
It was surprising, however, to learn that just days later, that Alphabet subsidiary Google began its own reorganization, according to CNBC. John Giannandrea, who has run Google's search and AI group for the last two years, is stepping down, and the company is splitting its search and AI units in two, creating a new business unit to house all of the company's AI efforts. Heading this new segment will be noted deep-learning expert Jeff Dean, the co-founder of the Google Brain and responsible for much of the company's pioneering AI research. Ben Gomes, in charge of search engineering, will lead the search group. Google has not yet confirmed the move.
Google's loss is Apple's gain
The former head of Google's search and AI efforts wasn't unemployed for long. Apple confirmed just one day later that it has put Giannandrea in charge of its "machine learning and AI strategy." The former Googler had helped integrate AI into many of the search giant's products, including Gmail, search, and the company's AI-infused digital assistant.
Apple's AI efforts are perceived to be trailing the leaders due to the company's focus on privacy and security — an issue that was touched on by Apple CEO Time Cook in an email about the hiring. "Our technology must be infused with the values we all hold dear. John [Giannandrea] shares our commitment to privacy and our thoughtful approach as we make computers even smarter and more personal."
A lot at stake
While the market for AI presents enormous opportunities, not all of those will be easy to quantify. Google has used AI to improve its search, Microsoft has imbued its cloud operations with the technology, and Apple has made AI central to innovations for its flagship iPhone.
The groundbreaking nature of AI is significant enough that every major tech company is organizing their business efforts around these futuristic algorithms, so investors should definitely take note.