An ambulance vehicle, nicknamed 'Ellie' delivers street-based outreach services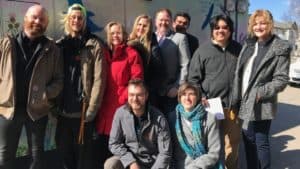 Outreach and healthcare workers at Elevate Northwestern Ontario (NWO) and Joseph Esquega Health Centre unveiled a new outreach tool on Friday afternoon that will allow them to deliver street-based health care to the city's homeless and other marginalized populations.
Nicknamed "Ellie," a name chosen through a community contest, a remodeled ambulance vehicle goes around the city of Thunder Bay, Ont. so that workers can deliver medicine and test for HIV and Hepatitis, while also giving out snacks, warm food and harm prevention kits such as naloxone.
"It's about, for us, handing out harm reduction supplies [and] one of the big things we do here is testing for HIV and Hep C and Hep B, so being able to offer that right out of the vehicle, is a big plus," said Elevate NWO director for education and community development, Eric Shih.
He said although the vehicle has only been in service for the last few months, residents who can benefit most from it have already been relying on it and spreading the message to let others know as well.
"By offering it in a nonjudgmental [and] accessible way with staff that are friendly, staff that are accommodating [and] staff that have worked with this population, I think we are just going to see more success," Shih said, "[and] already in the last couple weeks, we've tested a good number of folks. I think over 30."
In addition to tests, once a week a registered nurse and an attending physician are also in the outreach van so that they can treat wounds or any infectious diseases that need to be managed for individuals who need medical attention.
"As far as reluctance to go to care, [its because] … they are not willing to enter the system due to their issues of withdraw, depending on what they are using," said Cheryl Everall, the Medical Director of Joseph Esquega Health Centre and the attending physician on the outreach van.
She said another big reason why individuals refuse to seek medical care or attend the hospital is because of stigma and the concern that they won't receive the treatment they need due to their circumstances and addiction.
"We get a chance to reduce the stigma coming from them to the health care system by being able to show some compassion and to take that extra step to say that we are willing to meet you where you are at," said registered nurse, Jessica Laesser.
Recently, the outreach team distributed 35 naloxone kits, Everall said, with two of those kits being used to reverse an overdose earlier this week.
"There were dangerous opioids in this particular case," Everall explained, "somebody was a new user and hadn't tried before and was unaware and had an overdose. There was actually two people that used the naloxone kits and two people reversed."
She said although this outreach service is still quite new, clients have already expressed their gratitude and are coming back to seek help regardless of their situation.
The team's future goal is to not only service Thunder Bay and the surrounding areas, but also travel to remote communities in northwestern Ontario to deliver testing and other medical services.