Money for biomass projects, IT upgrades, and an educational garden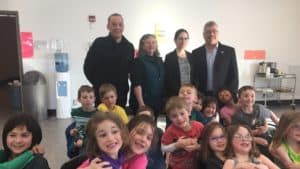 The federal government has announced $2.1 million in new spending on 11 economic development projects in the Beaufort Delta and the Sahtu.
Liberal MP Michael McLeod announced the new money for "sustainable economic development" on Thursday in Inuvik. The money comes through the Canadian Northern Economic Development Agency (CanNor). The money will add to earlier money the organizations themselves and the territorial government spent on the projects.
A media release issued Thursday listed where the money will be spent:
$230,000 to the Children First Society in Inuvik for a new biomass boiler and solar heating system in its facility.
$163,200 to the Tulita Dene Band to upgrade its IT system.
$202,000 to the Norman Wells Land Corporation to develop a block land transfer area development plan that describes what development can happen on land in the block transfer lease agreement the land corporation owns.
$533,000 to the Ulukhaktok Community Corporation to expand the Kayak Centre.
$56,000 to the Rat River Development Corporation to develop a biomass industry in Fort McPherson.
$750,000 to the business arm of the Deline Gotine government for three different projects.
$26,722 to Aurora College to improve the Western Arctic Research Centre's educational garden
$114,000 for a feasibility study on expanding commercial fishing activities in the Mackenzie River Delta.
Jozef Carnogursky, president of the Nihtat Gwich'in Council, said the group received the $114,000 in funding for the fishing study in December and has already started exploring how a small-scale commercial fishery could be developed in Inuvik.
"If you go into Northmart here, you won't' find any local fish," he said. "We are hoping that this project will help gear toward providing local fish to people."
Patricia Davison, the executive director of the Children First Society, is hoping the funding for the facility will help cut costs.
"We hope to realize an annual saving of $30,000 annually and of course that will be $750,000 over the project life-span of the systems," she said.